Rachel is a health & beauty published writer for 7 years now after a career in bio-feedback & other natural healing therapies. She's passionate about...Read more
What is Omega-3?
Omega-3 is a fish oil that contains both docosahexaenoic acid (DHA) and eicosapentaenoic acid (EPA). Omega-3 fatty acids are vital nutrients, not only do our bodies need these fatty acids to function, but they also contribute to some big health benefits.
Omega-3 fatty acids are one of the fats you don't want to miss out on and can be found in the following:
Mackerel
Anchovies
Sardines
Lake trout
Bluefish
Herring
Marlin
Salmon
Sturgeon
Tuna
The Benefits of Omega Supplements: Why Omega-3 is Important?
The American Heart Association (AHA) recommends eating at least 2 servings of fishy rich foods a week containing omega-3s (a total of 6-8 ounces). This should include a variety of fish such as cold-water fish like mackerel, tuna, salmon, and sardines that contain high amounts of omega-3 fatty acids. Here are some of the benefits of Omega-3's:
Cardiovascular & Heart Disease – Many studies have shown that eating fatty fish and omega-3 helps keep your heart healthy. Getting more EPA and DHA from foods or dietary supplements lowers triglyceride levels, for example.
Asthma – Omega-3's can help to lower and tame inflammation, a major factor in asthma.
Rheumatoid Arthritis – Omega-3 supplements can help reduce stiffness and joint pain. They also seem to help in boosting the effectiveness of anti-inflammatory drugs.
Baby Development and Allergies – DHA is an important factor for visual and neurological development in infants. A study done in 2018, linked fish oil supplements during pregnancy to a lower risk that a child will develop allergies.
ADHD – Some studies have shown that fish oil can help in reducing the symptoms of ADHD in some children and help to enhance their mental skills, such as thinking and learning.
How We Chose the Top 5
We suggest choosing an omega-3 supplement that has been third-party tested. Supplements that are third-party tested are individually evaluated for cleanliness and potency, making these supplements more trustworthy.
We also recommend choosing a supplement that's flavored, to help avoid those "fishy burps".
As with any supplement we recommend, try to avoid any fillers, synthetic, and artificial ingredients.
Be sure not to mistake "Fish oil" for "omega-3s". They are often used interchangeably and considered the same thing; however, this is not true. While many fish oils contain omega-3s, not all fish oils have the same dilutions of omega-3s in them.
Which Omega Supplement is the Best?
The market is flooded with omega-3 supplements. Making it extremely difficult to find the right one for you. No need to worry, you're in luck! We've done extensive research to narrow down the TOP five omega-3 supplements on the market today and we're %100 confident in our choices.
1. Kiierr Omega 369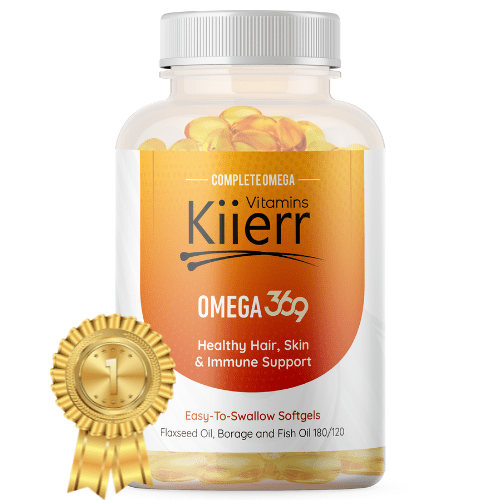 Introducing Kiierr's NEWEST product on the market, the omega 369. This easy to swallow, high quality supplement helps to promote healthy hair, skin, and immune support. This high grade complete omega supplement is sustainably sourced from Icelandic waters to provide the purest potency. Formulated with fish oil, flaxseed oil, borage oil, gelatin, glycerol and water. The omega 369 provides essential proteins and nutrients for your hair and skin.
2. Omega-3 MD Natural Health Support
If you're searching for an all-natural solution, Omega-3 MD is a great product. This supplement has one single ingredient, which is a concentrated amount of omega-3 fatty acids. Formulated to include 100% real omega-3 oil holding 800mg EPA (Eicosapentaenoic Acid), 600mg DHA (Docosahexaenoic Acid) pharmaceutical grade deep ocean omega-3. This supplement contains only cold-water oily fish, such as salmon, herring, mackerel, anchovies, and sardines. Containing around seven times as much omega-3 oils than other fish. This supplement is safe to take, and the product comes with a 60-day money back guarantee.
3. Nature Made Fish Oil 1,200 mg Plus Vitamin D 1,000 IU
This supplement is a great choice if you're looking for both omega-3 fatty acids and vitamin D all together. Each serving has 720 mg of omega-3 fatty acids, including 600 mg in the form of EPA and DHA combined. It also contains 2,000 IU of vitamin D, an important vitamin your body needs to help maintain strong and healthy bones. Made from wild-caught fish and cleaned to remove mercury, and other harmful compounds like dioxins, furans, and polychlorinated biphenyls (PCBs). Nature Made supplements are verified by United States Pharmacopeia (USP), a nonprofit organization that sets strict standards for the cleanliness, quality, and packaging of supplements.
4. Omega-3 Fish Oil by Essential Elements
This omega supplement comes in an easy to swallow capsule lemon-flavored soft gel capsules. Each serving is packed with a large dose of high-quality fish oil, including 1400 mg of EPA and DHA omega-3s. Essential Elements' Omega-3 uses trusted sourced fish oil and is made in the USA. These supplements are third-party tested and G.M.P certified. They offer a great 365-day money-back guarantee!
5. Nordic Naturals Ultimate Omega
Nordic Naturals Ultimate Omega supplements are sourced exclusively from wild-caught (wild caught fish come from a natural environment such as oceans, rivers, and lakes) sardines and anchovies. Formulated with 1,100 mg of combined EPA and DHA in each capsule. These supplements are lemon flavored, helping to eliminate a fishy aftertaste.
All Nordic Natural products are certified by Friend of the Sea, an organization that ensures seafood is sourced from sustainable fisheries and aquaculture. A Certificate of Analysis (COA) is also available for all Nordic Naturals products. This certificate provides thorough information on the purity, strength, and quality of these supplements.
Conclusion
There's so many types and brands of omega-3 supplements available on the market today, each one varying in ingredients and dosage. We recommend Kiierr as the top omega-3 supplement. Pair this supplement with Kiierr's other amazing hair loss products for impressive results.
Additional Resources:
https://journals.plos.org/plosmedicine/article?id=10.1371/journal.pmed.1002507