The wild, wooly world of laser hair growth. In this article we dive deep into the exciting new world of laser hair cap reviews, laser hair helmets and laser hair growth devices. Our goal is to identify the best laser hair growth device for hair loss to help you start growing thicker, more beautiful hair!
Let's face it, losing hair sucks. When you look in the mirror and see nothing but scalp where you used to have dense, beautiful hair, it's an understandably bad feeling. Nobody wants to lose their hair, but the unfortunate truth is that over 85% of men will suffer from hair loss by age 50, as will 25% of women, according to statistics provided by the AHA.
There are, of course, many different products, techniques, and regrowth treatments available in our modern world to prevent and slow hair loss. There are even surgical techniques used to implant hair, such as hair plugs and implants.
But with so many different products on the market, figuring out what really works and what doesn't can be very intimidating. Who's telling the truth? Who's just trying to sell you something? Often, it is very difficult to tell.
That's why we're here. In this article, we're going to go over the hair growth devices on the market today. They have been clinically proven to restore hair without the invasiveness of surgery. Without further ado, here are the 5 best laser caps we are looking at.
The Top 5 Laser Hair Growth Cap Reviews
| Picture | Device Name | Shipping weight | Best Price |
| --- | --- | --- | --- |
| | 2020 Top Pick - Kiierr272Premier Laser Cap | 2.4 pounds | |
| | The iRestore Laser Hair Growth System | 2.6 pounds | |
| | iGrow Hands-Free Laser LED Light Therapy Hair Regrowth Rejuvenation System | 3.7 pounds | |
| | Laser Cap GrivaMax Pro272 | 4 pounds | |
| | Theradome Hair Growth Helmet | 4 pounds | |
LLLT (Low Laser Light Therapy), Hair Loss, and You!
Low Laser Light Therapy, or LLLT, is a method of hair regrowth that uses lasers and LED lights targeted at specific wavelengths of red light (usually around 650nM) to target skin cells and hair follicles. It will then energize them, boosting their metabolic rate and helping you regrow hair. Typically these treatments are performed at a frequency of 2-3 sessions per week depending on the device.
Controlled clinical trials demonstrated that LLLT stimulated hair growth in both men and women, according to Low‐level laser (light) therapy (LLLT) for treatment of hair loss published in a collaboration by 5 physicians.
It's non-invasive, and uses "cold" lasers, meaning you will not feel any kind of burning or discomfort that are typically associated with other lasers. There is also no UV radiation involved in the process.
People have used this type of hair regrowth product in clinical settings for years. It used to require booking expensive sessions at a hair restoration clinic. But given the advancements in technology over the last couple years, LLLT therapy devices are now available for you to use in the comfort of your own home.
Does it work? The evidence of LLLT.
Yes, LLLT does work. According to a an evidence based review, low level laser therapy and hair regrowth is safe and effective. The treatment can treat both Male Pattern Hair Loss (MPHL) and Female Pattern Hair Loss (FPHL), the two most common causes of hair loss and thinning for men and women.
Results can vary from person to person, and research shows that LLLT is more effective in people with moderate hair loss. Similar with most treatments, it's better to catch it early, and treat accordingly.
Can LLLT be combined with other topical and chemical treatments?
Yes! Because LLLT only focuses on stimulating your scalp and is non-invasive, there have been no reported negative side effects when combined with other topical hair restoration programs that we could find.
What is the safety record of LLLT? Are there dangers?
According to this article and the FDA clearance publishings for these devices, they are proven to be safe and effective for the market. There were however two important safety guidelines that were recommended.
Two notes of caution we came across in our research:
First, you should avoid using LLLT if you are taking medications (or using topical medications) that increase your skin's sensitivity to light. Despite the "cold laser" energy used in these devices, they can have negative effects when combined with these medications.
Second, you should never look directly into the lasers used in LLLT. They are delivering large amounts of energy, and your eyes, which are very vulnerable to light energy, will be negatively affected.
Is LLLT worth the cost?
Well, that depends on your level of hair loss, your budget, and your personal inclination to regrow hair. Obviously, these answers will be different for everyone, and that's a big factor when considering hair loss treatment.
Another thing to consider is that, over the long run, these products are a great value. Especially in comparison to visiting professional hair clinics that can cost you hundreds of dollars per session.
At home laser caps have shown to be durable and reliable. You can use them for extended periods of time, even years (laser caps can last upwards of 12,000 hours or more according to Kiierr International). This means that the long-term use of these products outweigh the costs.
What products should I be looking at if I'm interested in LLLT?
There are many products out there which share the same basic design principles. Readily available online, these products are easy to buy and easy to use.
However, some of them have important differences in aspects of their design. This includes the wavelength of red light used, portability of their design and efficacy, and recommended treatment time.
We have found the top 5 LLLT device sellers on the market today, and wrote a quick review on each one. These laser cap reviews should give you a better idea of what devices, manufacturers, and products are available in order to find the best one for you.
Our 2020 Top Pick – Kiierr272Premier Laser Hair Cap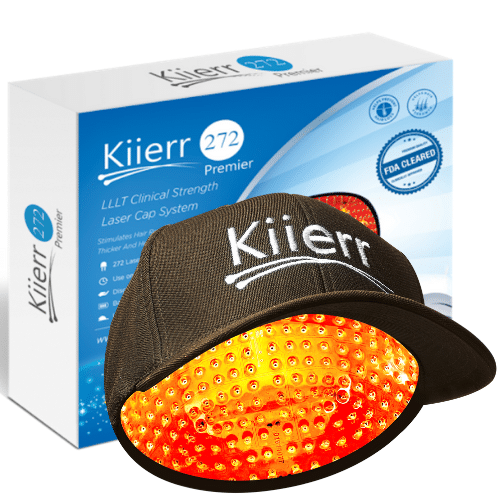 The Kiierr272Premier Laser Hair cap is a portable, high end ball cap style LLLT device that uses 272 medical-grade laser diodes during treatment time. Laser diodes are preferred over LED lights as the light emitted is more focused and translates to more hair regrowth. The light is emitted at the 650nm wavelength to treat hair loss and help restore thinning hair.
This product is FDA cleared, making it both safe and effective for women and men. It is extremely lightweight at only 2.4 pounds. It features a nicely designed baseball style cap which provides that familiar wearability unlike some of the more uniquely designed laser helmets.
The portable nature of this laser cap (comes with a rechargeable battery pack clip worn on your waist) allows you to comfortably perform household chores and other activities while performing your treatment. The light weight design makes it extremely comfortable for the 30 minute treatment period.
Kiierr products adhere to strict ISO manufacturing standards and rated for at least 15,000 hours of use, so rest assured these laser caps are built to last. Kiierr offers an impressive 2 year product warranty and 7 month money back guarantee giving its customers enhanced peace of mind.
Operation is simple. Place the helmet on your head, clip the portable battery pack to your waist, press and hold the power button for roughly 4-5 seconds, and that's it! The cap will even turn itself off after the 30 minute treatment time so you don't have to worry about time tracking. You will use this device just 30 minutes every other day until achieving your desired results. Like most LLLT devices, you'll typically see results within 6-8 months of use.
The iRestore Laser Hair Growth System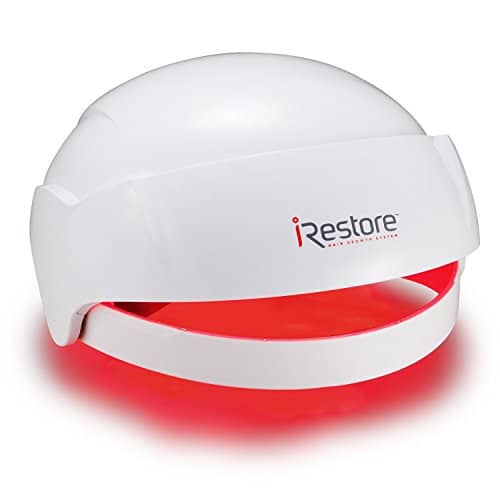 The iRestore Laser Hair Growth System is a portable, helmet style LLLT device that uses 51 medical-grade lasers and LEDs at the 650nm wavelength to treat hair loss.
This product is useable by both men and women. It's lightweight at only 2.6 pounds. It features an ergonomic design that's attractive and distributes its weight evenly, allowing you to be comfortable while undergoing your treatments. The sturdy helmet design means that you're free to do other work or relax while you wear it; and the light weight allows you to wear it for extended periods of time with little-to-no discomfort.
You can even purchase a separate mobile battery pack to use the iRestore hair growth system while you're on the go, anywhere!
Lightweight, comfortable, and durable, this device is produced to meet the very highest ISO standards, and has been tested to maximum compliance by Intertek Testing Services. FDA certified it as a class 510 medical device, and clinical trials have confirmed its efficacy .
Operation is simple. Place the helmet on your head, activate it, and use it for 25 minute sessions every other day. Like most LLLT devices, you'll see results within 2-6 months of use.
This device is a great value, and it has a relatively low therapy cost. We highly recommend it if you're just getting into the world of LLLT, and don't want to break the bank on an ultra high-cost device.
The iGrow Hands-Free Laser LED Light Therapy Hair Regrowth Rejuvenation System – FOR MUSIC LOVERS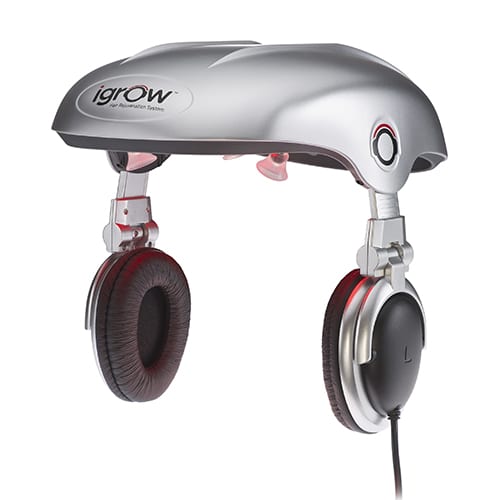 This is another helmet-style, hands-free LLLT hair regrowth device. It shares many similarities to the iRestore Laser Hair Growth System, but differs in some key ways.
First, the iGrow design is very comfortable and convenient. A 4-column adjustable design ensures that it can fit on any sized head, giving you a perfect fit during your treatment sessions. Intelligent weight distribution and built-in headphones also give you a wonderful way to enjoy yourself during your treatment sessions. Just put on the device, turn it on, crank up your tunes, and sit back as the 51 medical-grade LEDs and lasers do their work.
This helmet is a 510 class FDA-certified medical device . In two different clinical trials, 35% of males and 37% of females proved it to increase hair counts in just 16 weeks of treatment.
Before using the iGrow product (or any LLLT product), they recommend that you wash your head and hair thoroughly to rid yourself of and dirt, hair products, or other contaminants. These may cause the light of the LLLT not to fully energize your skin cells and hair follicles.
Used correctly and on the recommended regimen of 20 minutes every other day, you will see the difference in your hair within 3 months. You can continue the treatment indefinitely, until you've achieved the results you want.
As with all LLLT treatments, this iGrow is totally compatible with other topical treatments such as Rogaine and Propecia. Combining these treatments will result in thicker, fuller hair with fewer treatments.
Laser Cap GrivaMax Pro272


GrivaMax laser cap uses the LLLT, Low-Level Light Therapy technology, to engage the growth of hair in both women and men.
This laser cap works to handle all problems which lead to thinning or loss of hair. A variety of health problems could cause thinning or loss of hair. These things include: stress, diet, lifestyle, androgenic alopecia, aging and more.
GrivaMax laser cap, without doubt, enhances and prevents the degradation of hair loss. You can trust this clinically proven product as the FDA has cleared it. The product works non-surgically, safe, efficient and is less expensive compared to other products of its kind. It is also very portable and comes with a case which aids convenience for travel. You have a one year warranty with this product.
How The GrivaMax Pro 272 Laser Cap Works
GrivaMax Pro 272 Laser Cap uses LLLT technology to stimulate the hair follicle. This stimulation increases blood flow to the scalp creating cell regeneration in the problematic areas. With this, the hair will have a healthier, thicker and more enhanced look. With consistent use of the GrivaMax laser cap, customers are sure to experience an intense improvement in the cycle of their hair growth.
When one purchases this product, it comes with a charger which has an output current of both 12.6 Volts and 2.0 Amps, respectively.

Pros of this laser cap
Excellent coverage

No damage or side effects

One year warranty and 6-months money back guarantee

Good customer care/service

Could last and work efficiently for at least five years

Easily adjustabl

e

Works to prevent hair loss and regrowth the hair.

Cons
Depending on the size of your head, it may not cover all the parts properly

If all of your hair follicles are dead and you're completely bald, this may not work for you
Based on the functionality of this laser cap, you are in good hands if you decide to purchase.
Theradome Hair Growth Helmet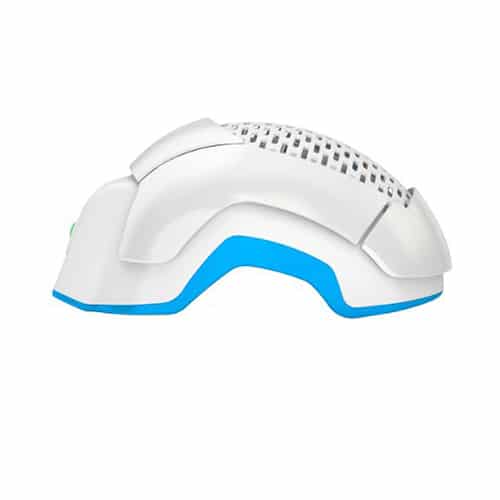 The Theradome Hair Growth Helmet is another total scalp-coverage product. Its design is with proprietary clinical strength Cold Laser Phototherapy. It uses 80 proprietary lasers that blast your scalp with 678nm laser light, reaching the base of your hair follicles during a short 20-minute treatment window.
The power and efficacy of the Theradome Hair Growth Helmet are great for this price range. It requires only two 20-minute treatments per week to reach maximum efficacy; unlike other products in its class which require 3-4 treatments per week.
You can see typical results within 2-4 months after beginning treatments, as long as you are following the treatment recommendations. Using the Theradome Hair Growth Helmet on a schedule of 3-4 times a week can provide quicker results, if desired.
In addition, this is a very power-efficient and portable device. Its battery can deliver up to 9 20-minute hair restoration sessions without charging.
This device is not cheap, but it is effective and economical when it comes to time needed for treatments, and has been clinically proven to safely and quickly help restore hair growth.
We recommend this device for anyone looking for a top-grade, helmet-style hair regrowth device. It could be thought of as the full-scalp coverage counterpart to the HairMax LaserBand 82.
Our Final Thoughts
We love the fact that these laser hair growth caps are so easy to use. It reminds you of simply wearing a ball cap. The only difference would be the benefits they have to offer in hair restoration. Depending on your budget, the price can fall more toward the "expensive" side. However, for the advantages you will get from using these hair growth laser caps, we declare them the best hair laser growth devices of 2020. Try them for yourself and let us know what do you think!
WRAP UP

We hope this article was informative; and that you can now be armed with some helpful information about LLLT, and hair restoration in general.

It's a complicated subject. But with the knowledge you've gained from this article, we know you're ready to begin your hair regrowth journey; whether it's with one of these LLLT treatments or not.