Rachel is a health and beauty writer with seven years of experience in the industry. She began her career as a practitioner of bio-feedback and...
If you're looking for home treatments for oily skin, this is the read for you. Having oily skin can be tasking. There's a lot involved in regards to oily skin. No one wants to walk around with their face shining like a mirror. No one would want to wear makeup and in a few minutes have the makeup looking greasy due to oily skin. There's a lot of recommendation about home treatments for oily skin. It can be bulky and confusing trying to figure out which treatment is right and most suitable for oily skin. That is why we have come up with this article, and we'll be doing an in-depth review the top oily skin home treatments.
Symptoms Of Oily Skin
The following are the symptoms of oily skin. If you have the following symptoms listed below. Your skin type is oily skin.
Large Pores

Shiny complexion

Thicker complexion

Pimples

Blackheads.
Home Treatments Of Oily Skin
Oily skin slows down the aging of the skin. However, the problem is the constant pimples and blackheads. The following are tips with which you can treat your oily skin. And to treat oily skin, you have to cleanse, exfoliate and hydrate daily and frequently.
You can do all of this by:
Washing your face at least two times, a day. Most advisable in the morning and before going to bed. It's always advisable to have bloating sheets to take away extra oil from your face.

Toning. Toning can help you cleanse and remove excess oil as well.

Moisturise with an oil-free moisturizer that won't clog your pores.

Avoid using drying and clogging ingredients for your skin or products with it.

Exfoliate

Apply sunscreen
Buying Guidelines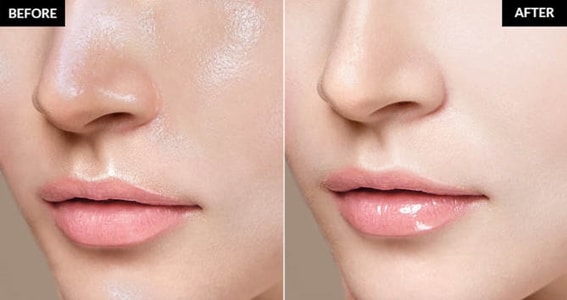 Now you know what to do for your skin, and you'll need to buy products to do all of this. But it's essential you know how to go about obtaining the products. Before you buy any product to treat your oily skin, you should go through the buying guidelines below.
Ask yourself the following questions.
What Is My Skin Type?
Knowing your skin type would help you understand what your skin requires and the ingredients you should keep away.
What Skin Care Routine Do I Need?
Based on your age and skin type, you'll be able to figure this out.
What Are My Budget And The Price Of The Product I Need?
Although, there's a lot of good skin care products for oily skin. If you don't have the money, you can't have the product. So it's vital to search prices of products around your budget range. One that you can afford.
Do You Need Sunscreen
Sunscreen is good for the skin. But with some products, you can get away without using sunscreen. While with, you need it. So this has to be put into consideration.
Top Products For Home Treatment Of Oily Skin
NuFACE Trinity Facial Trainer Kit
The NuFACE Trinity facial trainer kit has been clinically tested and proven to contour the face, enhance skin tone, radiance and also reduce the visibility of wrinkles, and fine lines. This product is proper during any skin care regimen. This product has also been cleared and approved by the FDA.It also contains hydrating hyaluronic acid which keeps the skin well hydrated all day. Experience the beautifully glowing results of this 5-Minute Facial-Lift
The product is ideal for anyone seeking a beautiful and flawless facial skin. The way this is designed in a way that you can give yourself a spa glow from home. This multi-solution full sized microcurrent regimen is loved and highly recommended by spa experts and celebrity estheticians.
When you purchase this NuFACE Trinity set it is well packaged and  comes with a device which has a Facial Trainer Attachment, a Power Adapter an Optimizing Mist (1 oz.),a Hydrating Leave-On Gel Primer (2 oz.), a Lifter Serum (1 oz), Prep-N-Glow Cleansing Cloths (5 pack),a Charging Cradle, Limited Edition Keepsake Box, a User Manual, and Starter Guide.
Pros
Sculpts and tones the face for a facelift

FDA approved

Uses microcurrent technology

Reduces wrinkles and fine lines.

Clinically tested and approved.

Maintains complexion, skin tone and glow.
Treatment And Use
To get the most of the NuFACE Trinity facial trainer kit. You would have to use it for at least five minutes in a day and five days in a week. This routine should be continuously done for at least the first two months which is at least for sixty days. After the early sixty days, you can start to use it for two to three times in a week; this would aid maintenance.
OKACHI GLIYA Hot Mist Facial Steamer
The OKACHI GLIYA Hot Mist Facial Steamer uses the principle of positive and negative ionic to function. How it works is that it penetrates through the skin, through the use of nanoparticles. With this, it  efficiently supplies extra moisture to the skin. Its advanced heating element of ceramic PTC helps to instantly produce strong steam and vapor which is effective in penetrating the skin. Its skin inhaler feature helps to deeply moisturize the skin and melt away dead cells from the surface thereby promoting cell generation.
 
Pros
Deeply moisturizes the skin.

Removes Blackhead and acne.

Suitable for facial cleaning and care.

Promotes collagen regeneration.
Treatment And Use

Using this product is easy. All you need to do is press and pop out the water tank. After that, turn the cover on and fill distilled water in the tank. Carefully and correctly put back the water tank.Afterward, touch the start button to begin steaming. When you're done turn, off the steamer by touching the button again or by closing the mirror.

However, it is advised that menstruating or pregnant women,also  people with Eczema or allergy of any kind should stay away from this product.
Hangsun SC200 Electric Sonic Cleansing Brush

The electric Sonic hangsun cleansing brush works to cleanse oily skin, debris, makeup, sweat and environmental pollutants. This method is essential as all of that mentioned above come together to clog the pores of the skin; this can further lead to a rough, irritating and generally, an unhealthy complexion. Cleansing is necessary to avoid bad skin, and that's where the hangsun electric Sonic cleansing brush comes in.
The Sonic cleansing brush has an IPX7 Waterproof level. With this, you don't need to worry about accidents that involve your brush dropping in water. This waterproof feature is highly convenient as you can even use the brush while having a bath. It comes with three different brushes and three adjustable speeds: low, mid and high, from which you can choose your best preference, and it is suitable for all skin types. It has a Non-Contact Charging Stand. This aids to prevent damages that will be obtained from the spray. With this, the product is very safe and secure to clean. It uses a Sonic Cleansing Technology, and it oscillates at a sonic frequency which works to produce more than 300 movements in seconds.
With this product, you'll have quick and visible results. In seven day, you'll begin to see the results. Generally, the Sonic cleansing brush works to provides a radiant skin, controls breakouts, clears the skin, prevents dry skin and keeps off excess oil. All of this would leave you with a smooth, soft, and clear skin.
Please keep the charging dock away from water to avoid damage.
Pros
Easy, quick and efficient to use.

It performs a deep cleansing on the skin.

Improves the elasticity of the skin.

It loosens oil dirt and oil and profoundly eradicates deep impurities from pores of the skin.

Primes the skin.

Convenient and comfortable to use.
Treatment and Usage
To use this product all you need to do is switch it on. Afterward, carefully and gently glide the brush across your face for at least one minute. Do this continually daily and reap the result of bright and glowing skin.
Blackhead Remover

This product works by vibrating to unclog pores. It has four different sizes of probes of which you'll get good results. With the black Knight blackhead remover, you can enhance and pamper your oily skin to flawless skin. It is easy to use and can be used by one's self and has a LED indicator light for visibility in dark areas.
It is rechargeable and cordless, and comes with a wireless charge cradle, which is convenient to charge and use.
The Black Knight blackhead remover uses the vacuum absorption technique advanced diamond microdermabrasion therapy to enhance suction.It comes with replaceable probes and four suction power-modes which aid to promote healthy skin.This product gives the face a good shape and lift, treats age spots, sun damage, acne scar and pits that have been caused by the existence of pimples.
Its diamond probe cleanses the facial skin efficiently and thoroughly.
With this device, you have easy access to clean deep into your pores. With this, you can treat your skin within the comfort of your home. It is a multifunction tool for skin suction. This device is also convenient and easy to charge and use. And it has reliable suction control. Generally, this product enhances fresh skin and glow.
Pros
Removes pimples, blackhead reduces fine lines and wrinkles.

Reduces the appearance and visibility of scars.

Smoothens uneven and rough skin texture.

Eliminates oil absorption pores, acne, and absorption mites.

Comfortable to use and clean.

One year warranty period.One month test period and hassle-free get money period.
Treatment And Use
First of all, use a hot towel or steamer on your face for between three to five minutes. This routine is to open up your pores. If your blackhead is deep, also gently apply the blackhead reduce liquid to your face.
Then, based on your preference, choose the probe that is most suitable for you and install it correctly.
Next, turn on the device by pressing the power button. Afterward, choose the intensity level of suction that you'll need. It is most advisable to start with a low suction level and further progress if need be.
After this, carefully make smooth and gentle stroke motions against the skin and work your way through your skin, evenly.
Make sure that you don't keep the probe on your skin for a long time.
Also, when using the flexible probe, always open vibrate when you want to unclogs your pores. Do this for a few minutes, then close the vibration and start vacuum.
When using the diamond probe, add vibration as this will give you perfect results from the treatment of your skin.
Blackhead Mask

The function of this luxurious cleansing peel-off mask is to remove impurities, toxins, dead and dull surface skin cells. This product also contains plants and vitamins extracts. This ingredients rejuvenate the skin, brighten, soften and enhances a healthy skin to restore and promote a youthful glow. This product is made from safe ingredients such as aqua and glycerin.
It is 100% free from side effects and safe to use.It efficiently and effectively removes extra oil and pore-clogging dirt, thereby preventing blackheads.
This mask contains polypeptide collagen, which whitens, and smoothens the skin, thus leaving it silky.
It nourishes and enriches the skin thereby leaving it with a glow.
It also controls the oil and water balance of the skin. The manufacturers offer a trial period in which you can determine if you like the product or if it's okay. If you don't, you are guaranteed to get a  100% money refund, absolutely no questions asked, and no other returns necessary.
Pros
Anti-aging beauty mask

Treats acne

Enhances the circulation of blood on the face

Removes and cleanses blackheads

Suitable for both women, men, and all skin types

Purifies the skin
Treatment And Use
Start by cleansing your skin then gently place a hot towel on all parts of your face that have blackheads and open pores. Do this for between three to five minutes. After that apply a thin layer of the product on your face. Focus mainly on the areas of your face with open pores and blackheads. Do not let the product come in contact with your hairline, brow, eyes, and lips.
Leave the product on until mask is completely dry. This step would take between ten to fifteen minutes.Finally gently and carefully peel off the mask from your face. Do this starting from the outers edges. Use warm water to on your face to generally clean and dry.
Clinique Dry Combination Skin Set

This product primarily works efficiently to produce high skin.  It is used to cleanse, exfoliate, and moisturize. This product has been clinically tested and proven to provide glowing and healthy skin. This product is sturdy and recommended by expert dermatologists all over the world and has excellent reviews.
Pros
Cleanses, purifies, exfoliates and moisturizes the skin

Fast shipping

Quality product

Easy to use

Well packaged

No side effects
Treatment And Use
This product is easy to use, and with just three steps, you'll be done with the process. It takes only three minutes to get done. For valid results, the three steps should be repeated twice daily.
How To Use Clinique Dry Combination Skin Set
Using water, smoothly massage the Lather Liquid Facial Soap Mild over face and into your skin. After that rinse it off and pat your face dry.
Using a cotton ball, apply the Clarifying Lotion over your face. After that, spread the Different Moisturizing Lotion to your face for that unique glow.
When you purchase this product, you'll get the Clinique Clarifying Lotion 2, 13.5 oz / 400ml,  the Clinique Dramatically Different Moisturizing Lotion with Pump, 4.2 oz / 125ml, and the Clinique Liquid Facial Soap Mild, 6.7 oz / 200ml, all in one set.