I am going to review both the Kiierr272Premier laser cap model so you can see the pros, cons and ultimately decide if it's the best fit for you.
The important summary features are; FDA cleared for both women and men; they use only medical grade laser diodes.
Instead of LED lights, the Kiierr272Premier cap uses only medical grade laser diodes (better from hair growth than cheaper LED's due to the more "focused" light array). The red laser light helps stimulate new hair regrowth by increasing blood flow, proteins and collagen to the follicles under the scalp surface. The wavelength of the laser light is 650 nanometers. It can easily penetrate the scalp and reach the follicle tissue level and stimulate improvement.
This type of treatment works from the inside out and it's not uncommon to see tiny red "pimple" bumps a while into your treatment just prior to the newly healthy hair follicles (sometimes which you haven't seen in years) break through the skin. Like every other laser hair growth hat on the market, the red laser is easy on your scalp and has been cleared through the FDA for safe, effective use.
Kiierr272Premier Laser Hair Cap!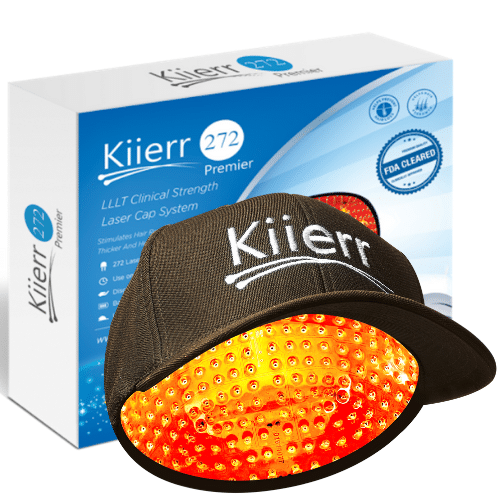 The Kiierr272Premier Laser Hair cap is a portable, high end ball cap style LLLT device that uses 272 medical-grade laser diodes (laser diodes are preferred over LED's as the light emitted is more focused. This translates to more hair regrowth) at the 650nm wavelength to treat hair loss and help restore thinning hair.
This product is FDA cleared to be safe and effective by both women and men. It is extremely lightweight at only 2.4lbs. It features a nicely designed baseball style cap which provides that familiar wearability unlike some of the more uniquely designed laser helmets.
The portable nature of this laser cap (comes with a rechargeable battery pack clip worn on your waist) allows you to comfortably perform household chores while performing your treatment; and the light weight design makes it extremely comfortable for the 30 minute treatment period.
You can even travel out of your home to perform your daily tasks with its easy, portable design.
Kiierr products adhere to strict ISO manufacturing standards and rated for at least 15,000 hours of use, so rest assured these laser caps are built to last. Kiierr offers an impressive 2 year product warranty and 7 month money back guarantee giving its customers enhanced peace of mind.
Operation is simple. Place the helmet on your head, clip the portable battery pack to your waist, press the power on button once and that's it! The cap will even turn itself off after the 30 minute treatment time so you don't have to worry about time tracking. You will use this device just 30 minutes every other day until achieving your desired results.
The Kiierr272 Laser Cap is a great option and has a fabulous price point to match! You'll experience great results and fantastic customer service without spending thousands!
Conclusion
You should know that it takes time for hair to grow. We advise you take pictures of your hair before you start and after to keep track of the hair growth. You should use the Kiierr272Premier laser cap for 30 minutes every other day to achieve best results. Because the device is portable, there will be no problem wearing it for that amount of time, including at home or outside while working. Reasons for hair loss vary depending on individuals. Cleared by the FDA, this laser cap has been effective in helping individuals gain fuller and thicker hair, thus making it high in demand on the market today.