Rachel is a health and beauty writer with seven years of experience in the industry. She began her career as a practitioner of bio-feedback and...
So you're losing your hair. That sucks. We know. Nobody wants to go bald, so it's no surprise that men alone spend nearly $1B per year fighting baldness. But it's confusing out there. Everywhere you turn some company or another is promising miraculous, fantastic results.
So you look at a few hair restoration treatments, but after some research, it seems almost impossible to figure out which ones might work, and which ones are no more than well-marketed snake oil.
We're here to help you. In this list, we'll take a look at 7 of the best hair growth products proven to help rebuild and restore healthy hair, and minimize (and even reverse) the balding process.
But don't take our word for it. Read on, and learn for yourself.
Kiierr Max Hair Growth Supplements Bundle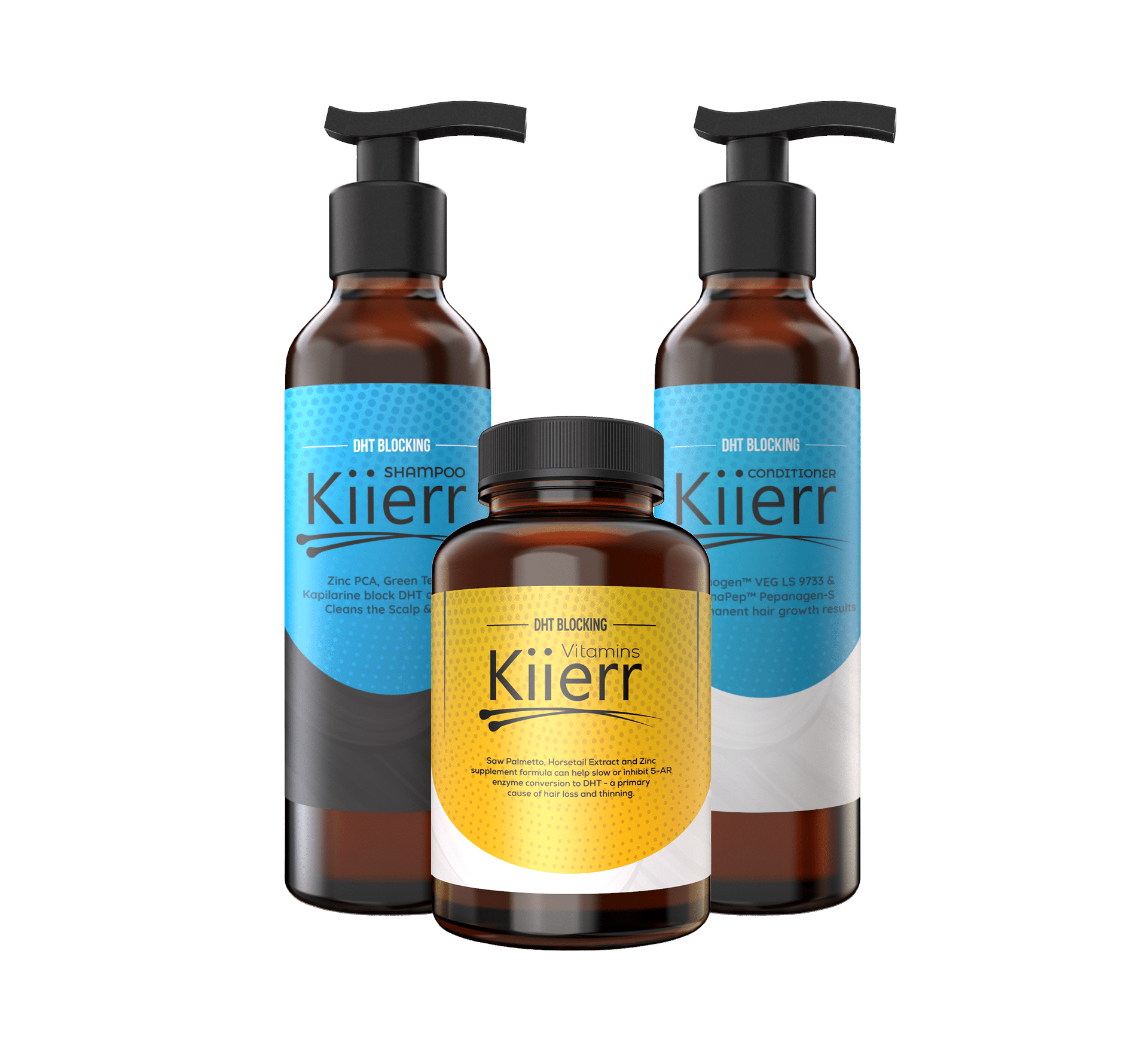 Kiierr is likely the most exciting hair growth company in 2020 with their innovation, great pricing and fantastic customer service.
The Kiierr Max Growth Supplements Bundle works to fight hair loss from a carefully thought out angle. This bundle is formulated for delivering maximum treatment quality for both men and women. This comprehensive package of products has been proven efficacy in treating male and female pattern baldness.
Kiierr DHT Blocking Shampoo blocks enzymes that turn testosterone into DHT (one of the leading causes of hair thinning and baldness). It contains proteins for hair health, Vitamin E, Pro-Vitamin B5, Keratin, Jojoba Oil, and Collagen Amino Acids.
Kiierr Hair Growth Conditioner promotes new hair growth with two main active ingredients: Trichogen®VEG LS 9733 & DermaPep®Pepanagen-S. These ingredients help to stop hair loss and promote new healthy hair growth.
Rounding out this trifecta is likely the most complete hair growth vitamin on the market. With an impressive list of all natural ingredients (including Saw Palmetto, Horsetail Extract & Zinc formula helps slow/inhibit 5-AR enzyme conversion to DHT) this vitamin improves scalp circulation, blocks DHT & promotes hair growth.
iRestore Fast Hair Restoration Bundle

This 3-in-1 package is by iGrow, one of the leading anti-baldness companies on the market today. They market LLLT devices, and chemical/nutrient treatments, all intended to aid you in your battle against hair loss.
This bundle design is for delivering maximum treatment quality for both men and women; with a comprehensive package of products that have proven efficacy in treating male and female pattern baldness.
The Hair Growth Serum is a topical treatment, with Redensyl as its active ingredient. Redensyl has been proven as a topical hair growth aid, almost twice as effective as standard minoxydil treatments.
This package also comes with a 3-in-1 hair growth formula supplement, which includes biotin, saw palmetto, and a DHT blocker as its active ingredients. DHT blockers help block dihydrotestosterone, one of the primary causes of baldness.
Rounding out this package is an anti-thinning hair growth shampoo, specifically designed to nourish your hair follicles and fight thinning hair in both men and women.
While all these products you can purchase separately, we recommend purchasing the complete package. While each product works individually, these products build off of each other; and when they're all used together consistently, you'll be shocked at the results. Together, these products can produce incredible results in as little as 3 months.
Organic Hair Growth Organic Shampoo and Conditioner Set

This combo shampoo and conditioner set couldn't be simpler to use. Simply use it instead of your current shampoo and conditioner, and watch as your hair becomes thicker and fuller right before your eyes.
This product comes in three different sizes, so if you're just dipping into the world of hair growth products, you can get an inexpensive, trial-sized version, and experience the results for yourself.
These shampoos and conditioners are safe and effective for anyone; women, men, even children (though we doubt they'll need them).
The sulfate-free shampoo and conditioner work with organic ingredients to promote keratin growth and stabilization, and the pH balanced, moisturizing conditioner leaves your hair feeling healthier, fuller, and hydrated.
Ultrax Labs Hair Rush DHT Blocking Hair Loss Maxx Hair Growth Nutrient Solubilized Keratin Supplement

This 1 month supply of Ultrax Labs Hair Rush contains all the ingredients you'll need to stop losing hair, and speed up your hair growth.
Manufactured with HairBoost technology which features solubilized keratin, over 20 powerful minerals, vitamins and herbs, and manufactured in the USA, this product will help restore your follicles in just 90 days.
Active ingredients include Nettle Leaf Powder and Saw Palmetto, which act as DHT blockers, and Pumpkin Seed Powder, which has been shown in clinical trials to promote healthier and faster hair growth.
No matter your stage of baldness (or even if you're just looking to strengthen your existing hair); this supplement is guaranteed to increase your hair's volume, thickness, and reduce breakage and split ends.
And with no negative side effects, this supplement is perfect for anyone on the market for a safe, effective hair growth supplement.
HairAnew Unique Hair Formula with 5000mg Biotin

If you're looking to strengthen your natural hair, and you are looking for a unique, USA made, vegan supplement that has never been tested on animals, look no further.
This unique organic product is made with 11 unique ingredients to stimulate and promote hair growth, and it contains over 5000mg of Biotin, which has been proven to stimulate healthy skin, and healthy keratin growth. Keratin is what makes both your hair and fingernails ; and biotin supplements can help augment your body's natural growth; and increase the density, volume, and quality of your hair and fingernails.
Fully vegan, we recommend this product to anybody who wants to try out a hair supplement; but may be wary about the ingredients and chemicals that can be contained in other supplements. If all natural is what you're looking for, look no further.
Ultrax Labs Hair Lush | Plush Caffeine Hair Loss Hair Growth Thickening Treatment Formula Serum

This topical treatment uses a unique, up-and-coming hair treatment method; caffeine. A 2014 study published in the British Journal of Dermatology showed that small amounts of concentrated applied to hair follicles counteracted the effects of the testosterone that is such a common cause of baldness. This method was more effective on male hair follicles than females, but it did have an effect on both.
This thickening serum contains concentrated caffeine in the form of a leave-in serum. You apply the product in problem areas and rub it in, allowing it to set and dry for maximum growth.
Users report fullness and body added to their thinning hair in as little as a few weeks. If you're curious about this alternative to traditional treatments such as DHT blockers, this is a great product to try.
NuNutrients Advanced Hair Regrowth Treatment for Men

This product combines a highly potent DHT blocker in a very concentrated formula contained in a convenient, easy-to-use spray bottle. Given the high concentrations of active ingredients in this product, one bottle can last you up to 3 months.
Application directly to the scalp in your most affected areas is recommended twice daily. You can see results within 3 months, though some report noticeable effects such as a reduction in hair loss and stronger hair within as little as 3 days.
This is a great option for anyone without a lot of time to spend on leave-in treatments; and who wants an all-in-one DHT blocker and hair regrowth solution.
Maximum Strength Hair Regrowth Serum by Beauty Facial Extreme

This serum is a potent hair regrowth system that includes DHT blockers to prevent further hair loss; increase hair thickness and shine, and aid weak follicles in regrowing hair.
The proprietary formula includes Acetyl Tetrapeptide-3, and an organic red clover extract. Acetyl Tetrapeptide-3 is a proven DHT blocker even more potent than products such as Minoxidil, and red clover extract is rich in Biochanin A, which also helps inhibit testosterone conversion into DHT, and support healthy hair growth.
Though it's effective by itself, we do recommend that if you enjoy this product, you purchase the shampoo and conditioner created by this company, as together, the results that you gain will be even more impressive than any single product used alone.
If you're looking for a great DHT-blocking solution that's more effective than minoxidil and almost half the price, this product by Beauty Facial Extreme is a great place to start.
In a nutshell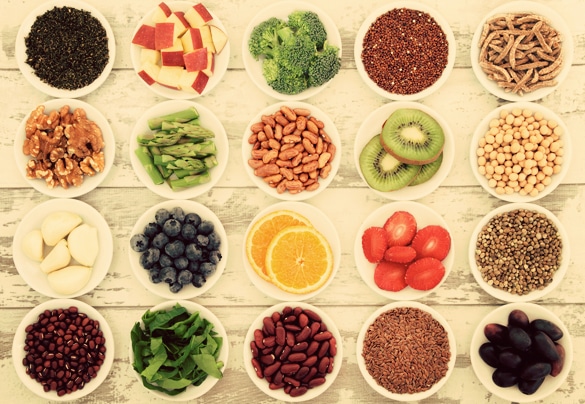 All of the above products are exceptional supplements to help combat hair loss and encourage strong, healthy, beautiful hair. But they're not the only things you can use.
There are many organic supplements and vitamins that can be found in everyday foods that you can consume no matter what hair treatment plan you're using. These include foods rich in healthful oils such as salmon, halibut, and walnuts, as well as iron-rich foods like spinach and some red meats.
Even taking something as simple as a daily multivitamin can aid you in your fight against hair loss. Remember, even though hair loss is natural; a healthy diet, a few good supplements, and some specially design products are all you need to delay it; and help regrow and restore natural hair.