Rachel is a health and beauty writer with seven years of experience in the industry. She began her career as a practitioner of bio-feedback and...
The struggle for improved hair growth is a real one. Who does not like a long, healthy and shiny hair that turns heads around? Despite the fact that there are more than enough hair extensions out there you can use, nothing beats a naturally long, beautiful and healthy hair.
In the bid to get a better hair, a lot of people try different hair recipes and products with the hope that they will work. The truth is there are a thousand and more hair-friendly recipes you can use for your hair, and that will work. One of such hair growth methods is using eggs. Why hair you might ask, read on to know why and find how to make your hair grow faster with eggs.
Benefits of Egg in the hair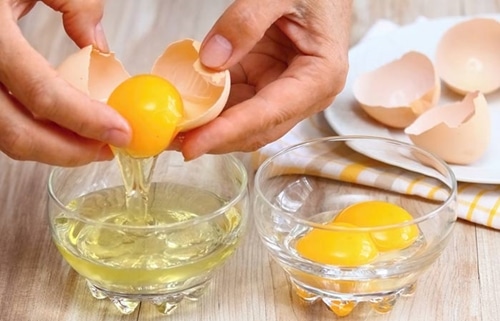 Eggs contain proteins, minerals and vitamins plus antioxidants and unsaturated fats that can help repair your damaged hair. They are useful for strengthening hair and avoiding hair breakage or loss. In Eggs are biotin and b complex all good for your hair. All these nutrients help to boost your hair growth giving it more volume and thickness. Eggs have Lutein in them that encourages hair elasticity and hair hydration.
Egg yolk, referred to as hair food, is mainly known for being very rich in B-complex and folic acid as well as vitamins. Yolks also have fatty contents that makes it a good conditioner for the hair. As for the egg white, it has more of protein than the yolk. The egg white is more useful for people with oily hair. For those with dry hair, the yolk is more ideal. However, using the whole egg (both egg white and yolk) gives you both of the benefits therein.
How To Make Your Hair Grow Faster With Eggs
There are numerous ways of using eggs for your hair to grow healthier and longer. Part of which is egg and olive oil mixture.
You can combine egg and olive oil for a healthy hair. Here's the process:
– Break in one egg in a bowl or 2 eggs if your hair is long.
– Add a tsp of olive oil in the egg (optional)
– Whisk together until yolk, and egg white combines finely
– Apply the mixture to your hair evenly. Be generous enough to let the egg cover your hair correctly.
– Leave the egg in your hair for about 20-30 minutes
– Wash off egg with cold water. Please note that using hot water to wash out the egg might cook the egg and the smell might not get off if this occurs.
– Apply conditioner and air dry your hair.
– You can make this recipe weekly, depending on your hair condition.
This egg mask is right for your hair. It will serve as a conditioner for your hair and still maintain the oil balance in the scalp. It nourishes the hair shafts and roots. This recipe can also help with your hair texture leaving you with a shiny hair.
The olive oil is an option not compulsory. What it does is to condition the hair and soften it. The egg alone can be used. Also, you can combine your egg with other things such as:
Egg whites and aloe vera
Henna, egg yolk and fenugreek
Egg and coconut oil
Etc
There are different recipes for different hair condition and needs. However, not everyone has the time for DIYs. Not everyone can tolerate the smell attached to egg masks. To this, there are various products available on the market that will save you the stress of making these masks yourself.
Egg Nutrition Products
Below are reviews of Egg masks and egg oil that are good for hair growth and strength. These products are not less in nutrients; you stand to get what raw eggs will give to your hair while leaving your hair with an incredible smell. You might want to read on!
Eyova Hair Nutrient With Egg Oil (50 Ml)

Overview
For a strengthened hair that won't fall off, you need good hair care. Why not care for your hair with this Eyova Hair Nutrient With Egg Oil? This product is capable of helping you prevent hair loss by ensuring you get the best hair nutrients for healthy hair.
Eyova hair nutrient is made of hair and hair roots supplementation. Your hair gets nutrients filled with antioxidants, anti-inflammation and immunity enhancing properties. These properties ensure you win the fight against hair loss. Also, hair growth is stimulated by improved cell growth and blood circulation, thanks to this egg oil that contains these Polyunsaturated fatty acids (PUFA).
Other benefits of the oil are to regenerate hair follicles, prevents itchy and dry scalp by avoiding inflammatory reactions, and to prevent hair loss.
Pros
– Immunoglobulins for Enhanced scalp immunity
– Strengthens the hair to avoid breakage
– Prevents dry scalp
– Good for itchy scalp
– Helps improve blood circulation
Hair Mask "Egg Nutrition" Based on Egg Protein and Rye Malt for All Hair Types

Overview
This product is a Russian made hair mask formulated to help nourish your hair and scalp. Hair Mask "Egg Nutrition" based on Egg Protein and Rye Malt is ideal for all hair types. It helps regenerate damaged hair, thanks to the Rye Malt it contains which serves as an excellent source of micronutrients for that purpose.
This mask is made with the right ingredients, an infusion of Malt, Hydrolyzed Egg Protein, cold pressed oils, Cucurbita Pepo, Hippophae Rhamnoides, Corylus Avellana Seed, White Beeswax, and many more ingredients.
Application of this hair mask is quite easy and straightforward. On clean, damp hair, apply this hair mask and allow it sit for 10-15 minutes. You can afterward rinse out with lukewarm water. This mask also works well as a deep conditioning treatment leaving your hair smooth, soft and silky.
Pros
– Smells great
– Easy to wash out
– Leaves hair shiny and silky
– Deep conditions the hair
– Good consistency
Aroma Dead Sea Honey Egg Yolk Hair Mask 600

Overview
When you buy the Aroma Dead Sea Honey Egg Yolk Hair Mask, you will only get one thing; the best! Let your hair thank you for giving it vibrant and healthy ingredients. In this mask are elements that help revitalize and strengthen your hair as well as the roots at a fast rate. It features minerals from the Dead Sea. Other unique properties in this mask are egg yolk, natural honey, and olive oil.
In between seasons, this mask is recommended for prophylactic use. It is also good to use for breastfeeding and pregnant women. To restructure your damaged hair, this is for you. Not only does it restructure damaged hair, but it also prevents your hair from getting damaged at all. Other benefits of this product are its ability to smoothen your hair, allowing for smooth comb detangling. Also, your hair's appearance is improved when you use this mask. It adds extra shine and inner strength to your hair. For dry and dull damaged hair, give it a treat with this.
Pros
– Smoothes and softens the hair
– Helps you with better hair management
– Prevents hair damage
– Revitalises damaged hair
– For improved hair appearance
Conclusion
For all its worth and for all your hair stands to get, these egg nutrition formulas are indeed worthy of your time and money. If you are passionate about getting your hair improved whether in length, thickness or general hair healthiness, then the above reviewed egg based products are highly recommended for you. Try them now and thank me later!
Suggested Next Article: Top 6 Laser caps for 2019 – compared in detail – see our top picks to help you get beautiful, thick hair in 2019.