Rachel is a health & beauty published writer for 7 years now after a career in bio-feedback & other natural healing therapies. She's passionate about...Read more
Have you noticed your hair starting to thin or maybe you're regretting that short haircut you got last month? Some lifestyle changes can contribute to healthy hair growth such as only washing your hair every 3-4 days, using a heat protectant spray, taking out your ponytails and letting your hair breathe, etc. But even if you're living your best healthy hair lifestyle, your body may be deficient in some of the essential nutrients and vitamins needed for overall hair growth and strength.
According to dermatologist Lamees Hamden, MD, founder and CEO of Shiffa, "hair cells are the last to get nutrition." So even if you think you're getting enough vitamins, it's better to be safe than sorry, or as we like to say it, better to have a head full of that high school hair than balding.
Reasons for Hair Loss in Women
According to the US National Library of Medicine, fewer than 45% of women go through life with a full head of hair. The chances of hair loss increase with age from approximately 12% amongst women ages between 20-29 years to over 50% of women over the age of 80.
Female pattern hair loss is the most common cause of hair loss in women and increases with age. Female pattern hair loss is characterized by a reduction in hair thickness over the crown and frontal scalp with balding at the front of the hairline. This condition is progressive without treatment. Not to mention the other many causes of hair loss in women, menopause, postpartum hair loss, stress, etc.
What Nutrients and Vitamins Best Help Boost Hair Growth?
According to WebMD, to help prevent hair loss and keep your hair luscious and thick make sure you're getting enough of these five key vitamins:
Biotin
Iron
Vitamin C
Vitamin D
Zinc
Low levels of these vitamins have been shown to contribute to hair thinning and hair loss. If you're wondering how much of each vitamin you should be getting a day? Check out The National Institute of Health and their guide on dietary supplements.
The Top 5 Hair Growth Vitamins for Women: How We Chose
An effective hair growth vitamin should contain top quality, clinically recognized ingredients in effective doses for the best possible results and effectiveness. We've done the research for you and got rid of all the vitamins with unnecessary or synthetic ingredients, additives, or preservatives for better natural vitamins and a healthier option for hair growth.
Based on our research and findings, we're confident in the top brands that we've picked out. We've researched clinical studies, medically reviewed articles, ingredients, customer reviews, and more.
**These statements have not been evaluated by the FDA. Please consult your doctor before using any of these products.
Biotin Gummies by Kiierr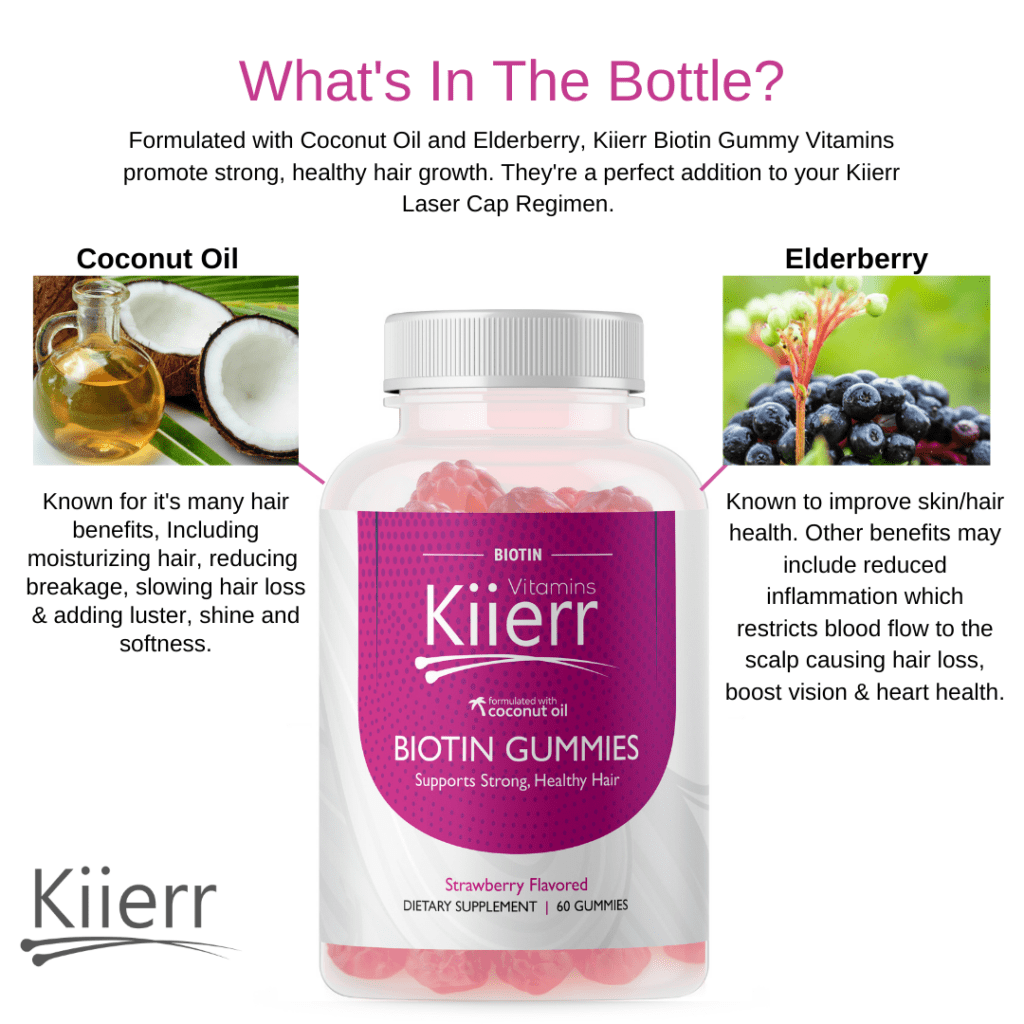 These delicious FDA-cleared top rated biotin gummies are made with all-natural ingredients for hair growth. They are formulated with Coconut Oil, Elderberry, and 2500 mcg of Biotin to promote strong healthy hair growth.
Coconut oil is known for its many hair benefits, including moisturizing hair, reducing breakage, slowing hair loss, and adding luster, shine, and softness. Elderberry is known for improving hair health and skin, while also reducing inflammation which restricts blood flow to the scalp causing hair loss, boosting vision, and heart health. Kiierr's biotin gummies have a five-star rating, and they also offer additional products to help maximum hair growth.
Viviscal Hair Growth Supplements for Women

Viviscal Hair Growth Supplements for Women are precisely formulated with exclusive marine complex AminoMarTM, which helps nourish thinning hair and promotes active healthy hair growth. Only Viviscal supplements include AmminoMarTM (450 mg per serving). These supplements are 100% drug-free and nourishes hair from the inside out.
Nutrafol Women

Nutrafol vitamins come in the form of a capsule and contain twenty-one powerful ingredients for better hair growth. Featuring their patented Synergen Complex®, a proprietary blend of clinically successful ingredients formulated with unique ratios shown to improve hair growth and quality.
Hair Vitamins by Hairfinity

These vegan vitamins come in a capsule form to help support hair growth. They have a blend of bioactive vitamins, minerals, and nutrients. Including 2500mcg of Biotin and Capilsana Complex which provides your hair with naturally occurring building blocks by boosting amino acids in Hydrolyzed Collagen, sulfur containing MSM for vitality, and hair boosting Horsetail with silica. 
SugarBearHair Vitamins

These vitamins come in gummy form and are flavored with natural berries for a sweet taste you can enjoy! SugarBearHair is created with essential hair-friendly vitamins like biotin, folic acid, and Vitamin D. The vitamins work best taken for a minimum of 3-months, but best results are usually seen at 6 months. Results will vary from person to person. These gummies are gelatin, dairy, and gluten-free.
**Recommended for ages 13 and older. Ages under 13 must get doctor's permission.
Conclusion
When it comes to female hair loss, take it from us and choose Kiierr. Not only are their biotin gummies delicious, but they're super affordable. See for yourself, they have a five-star rating and great customer reviews. Plus, Kiierr offers additional hair growth products to help you achieve the maximum amount of hair growth.
Additional Sources:
https://www.health.com/beauty/hair-vitamins
https://d.docs.live.net/f7e62f0e15bf11f7/Desktop/DHT%20Products.docx
https://www.webmd.com/connect-to-care/hair-loss/best-vitamins-for-hair-loss-prevention
https://ods.od.nih.gov/HealthInformation/Dietary_Reference_Intakes.aspx