Update: Please read our Best Laser Hair Growth Cap Reviews article. Laser caps provide exponentially more LLLT coverage for greater, more even hair regrowth. Additionally caps are more comfortable and can be used passively vs. laser combs which must be used manually.
There are tons of great laser hair growth device out on the market, and Laser Combs are a growing market.
These devices are similar to full-sized, helmet-style devices that use Low Level Laser Light Therapy (LLLT); but are generally much less expensive; and are almost always used in together with other types of hair regrowth therapy.
Let's take a look at the best laser combs on the market today.
| Picture | Product Name | Weight | Dimensions | Price |
| --- | --- | --- | --- | --- |
| | HairMax Ultima 12 Lasercomb | 2 pounds | 10 x 2 x 2.5 inches | |
| | HairMax Prima 9 LaserComb | 2 pounds | | |
| | Denshine 3 in1 Hair Regrowth -Hair Massage - Hair Growth Combs | 0.5 pounds | 19×5×3cm | |
| | Project E Beauty Hair Growth Comb Treatment | 7 ounces | 8.7 x 6.3 x 2 inches ; 5.3 ounces | |
| | Light and Massage Therapy Hairbrush | 8.8 ounces | 2.1 x 3.1 x 10.2 inches ; 6.2 ounces | |
| | Hairmax Lasercomb Professional 12 | 3.4 pounds | 9.6 x 1.5 x 1.6 inches ; 2.6 pounds | |
Table of Contents [hide]
HairMax Ultima 12 Lasercomb
For an easy home-use medical device for hair growth, you can try this laser comb. It is FDA-cleared just like the rest of the devices we mentioned previously. It is also clinically-proven to be able to treat hair loss problem in both men and women. The benefits of using HairMax Ultima 12 Lasercomb is definitely the healthy hair growth. But it is also more than that. This laser comb reverses the thinning of hair. As a result, it regrows thicker, healthier and fuller hair.

In order to gain a great result, we suggest you to comb your hair with this laser comb slowly over your scalp. This way, it can cover all area of your head and repairs all the damages. With its patented hair-parting teeth, it is also convenient and easy for travel and storage. We highly recommend this product for a better hair growth stimulation and rejuvenation of aging hair.
HairMax Prima LaserComb (Prima 9)
Another bonus product that we would like to recommend is the Prima 9 Lasercomb by HairMax. This is quite similar to Ultima 9 Lasercomb. Based on testimonials, most people started seeing result between 3 to 4 weeks. This laser hair growth comb delivers therapeutic light energy directly to the hair follicles. There are no LEDs in this laser comb and the light energy is delivered through 9 medical-grade lasers.

Very easy to use and can be taken with you when you travel. Small and compact, this laser comb also does not need heavy battery packs to be carried around. If you want to restore the natural growth cycle of your hair, you should definitely invest in this laser comb. Apart from successful testimonials, there are no clinical side effects have ever been reported. Prior to releasing this laser comb, HairMax ensured that they went through at least seven clinical studies at top medical research centers.
TOP BARGAIN – Project E Beauty Pro Portable 2in1 RED LED Light + Vibration Hair Growth Comb
Honestly, we have no idea how this product is available for such a low price. It uses 2 professional grade 650nm wavelength laser light sources with 5mW beams; and these lasers have great coverage, ensuring you won't miss a spot.
In addition to the lasers, this laser comb includes a vibration feature which stimulates your hair follicles. In concert with the lasers, this helps shake loose any debris that may cause your hair to not absorb the full power of the built-in lasers.
This device is also totally cordless and wireless, operating off of 2 common AAA batteries; and the single-button interface makes it simple and convenient to use.
Results are fairly standard for laser light therapy devices. While some users report results in as little as two weeks, generally observable results occur after about 4 months of therapy.
The efficacy of this device can be massively increased by pairing it with another product, however; one of the great things about LLLT is that it can safely be used with other topical and chemical treatments, such as this:
PURA D'OR Hair Loss Prevention Therapy Shampoo & Conditioner

The PURA D'OR shampoo and conditioner have been clinically proven to help restore your hair, energizing it from root to tip, and the 12 proprietary DHT blockers help block dihydrotestosterone, one of the main causes of both male and female pattern hair loss. They're also fortified with niacin, biotin, argan oil, and other natural ingredients proven to help give you healthier hair.
Using this shampoo and conditioner set in combination with this laser comb is going to give you incredible results. You'll notice your hair loss slowing and stopping within weeks of beginning this treatment.
BEST BANG FOR YOUR BUCK – Denshine® 3 in1 LED Hair Regrowth Micro current Hair Massage Hair Growth Combs Home Travel Use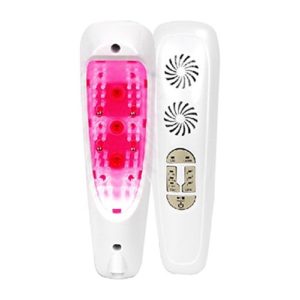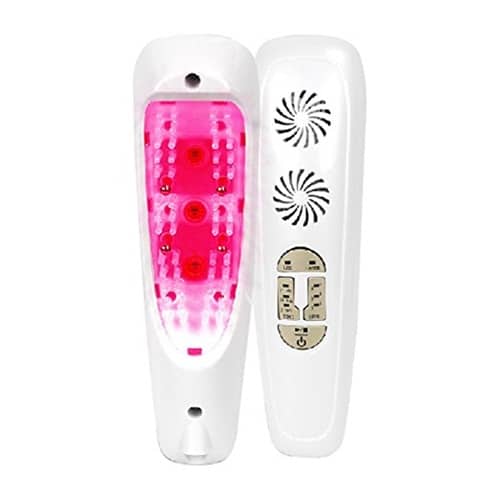 This device offers a great mid-point between lower price offerings such as the Project E Beauty comb, and professional-grade offerings.
This device uses multicolor LED technology and lasers to stimulate the growth of your hair, boosting blood circulation up to 20-60%, depending on the location measured. This stimulation increases blood flow, and the bioavailability of oxygen at the target location, which encourages healthy hair growth, and the brushes help decrease the amount of DHT secreted by your sebaceous glands.
DHT is one of the primary causes of hair loss, and the DHT-minimizing ability of this laser comb, combined with its ability to encourage hair growth and increase hair health make it a winner in our book.
This comb is also easily useable, programmable, and transportable. It includes 6 levels of treatment, and 3 levels of treatment time. You can also toggle between laser mode and LED mode, allowing you to have full control over your own treatments.
The built-in Li-Ion battery charges with an included A/C adapter; so you never have to worry about running out of batteries.
It also pairs well with other LED brushes, such as this Body Essentials Hairbrush below; as the Denshine lacks a massage feature, which is often recommended to encourage hair growth and help remove harmful debris from your hair during LLLT:
Body Essentials Light and Massage Therapy Hairbrush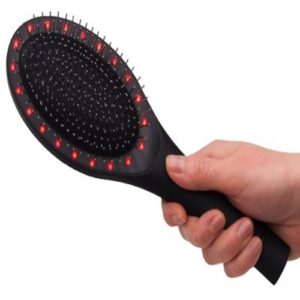 The massaging action of the Body Essentials Light and Massage Therapy Hairbrush pair well with the Denshine, using light of a slightly different wavelength, 184 flexible steel bristles with ball tips, and a stimulating massage action to encourage hair growth.
Together, these two products make an unbeatable pair, at an affordable price.
PROFESSIONAL GRADE – Hairmax Lasercomb Professional 12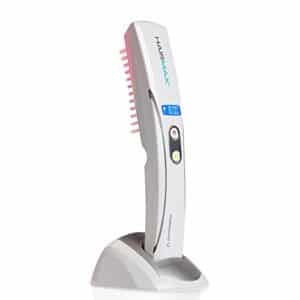 If you're looking for a top-of-the-line Laser Comb, and you're looking to spare no expense, this is the product for you. FDA cleared to treat hair loss and promote hair growth, this product uses 12 individual medical-grade lasers to stimulate hair growth.
The proprietary brushes also help separate your hair while combing, to ensure that the laser light of these beams is delivered directly to your hair follicles; and doesn't scatter away after hitting some stray hairs.
With just three 8 minute treatments per week, you can expect massive hair growth; with over 90% of users reporting new hair growth after just two months of use.
It charges using an internal Li-Ion battery, and is totally portable and convenient. And just like all LLLT devices, it's totally compatible with other hair treatments, such as these:
2 Pack of Vitamins Hair Growth Shampoo- Guaranteed Treatment for Thinning Hair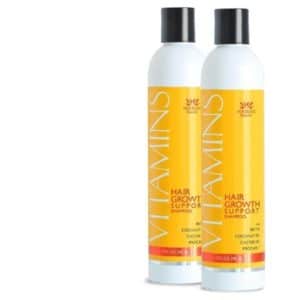 This shampoo has been shown to stop hair loss by up to 47%, and stimulate regrowth by 121%, using DHT blocking ingredients proven to help stop hair loss, and a vitamin blend that helps your existing hair grow long and healthy.
By combining this shampoo's hair prevention abilities with the hair restoration of the Hairmax Lasercomb Professional 12, you'll turbocharge your hair care regimen; and see incredible results in what feels like no time at all.
You may still be skeptical about the effectiveness of LLLT, and Laser Combs.
Well, let us dispel your doubts
Both lasers and LEDs have been studied as methods to help regrow hair, and although lasers have been found to penetrate deeper into your skin, both have proven effective at stimulating the growth of existing hair follicles. This therapy is equally effective for both men and women; and the fact that no adverse effects have been reported due to LLLT makes it a very convenient and exciting method of hair restoration compared to surgical procedures and chemical methods.
We are not trying to fool you here, or pretend that these devices are miracle cures. They aren't. They only affect your existing hair follicles. Nothing, including these devices, can create new hair follicles, and we don't want to give you that impression.
But if you use these products correctly; and use a pair with other treatment options, you'll be able to strengthen your existing hair follicles; and slow down (or even stop) your hair loss. Just like most clinical conditions, hair loss is best stopped when it's caught early.
So don't delay. Check out these products, and their recommended treatment combinations. If you have mild-to-moderate hair loss, the faster you get on a restoration regimen, the better your results will be.
Hopefully this guide helped shed some (laser) light on the subject of Laser Combs and Low Level Light Therapy. We hope you enjoyed it, and maybe even learned a thing or two.
Until next time, happy growing!