No one likes to look in the mirror and see that they are losing hair where they used to have a dense and beautiful hair. Several women and men suffer from hair loss by the age of 50. Therefore, there are several hair treatment products but a lot of them are not effective. Traditional ways of hair treatment work for some mild cases, but thanks to advancement in technology, Low-level laser therapy is now being used to treat hair loss. So they do not require a massive change in one's lifestyle, unlike the traditional methods. There are also several reasons why hair loss occurs; pregnancy, hormone imbalance, stress. It is important to know why you are losing hair in order for you to be able to gain from this Low-level laser therapy. This technology involves using laser combs and treatments. In this review, we will compare two different laser hair growth devices; it also should help you decide on which one is more suitable for you. These are the best selling laser hair growth device reviews.
Kiierr272Premier Laser Hair Cap!
The Kiierr272Premier Laser Hair cap is a portable, high end ball cap style LLLT device that uses 272 medical-grade laser diodes (laser diodes are preferred over LED's as the light emitted is more focused. This translates to more hair regrowth) at the 650nm wavelength to treat hair loss and help restore thinning hair.
The portable nature of this laser cap (comes with a rechargeable battery pack clip worn on your waist) allows you to comfortably perform household chores while performing your treatment; and the light weight design makes it extremely comfortable for the 30 minute treatment period.
This product is FDA cleared to be safe and effective by both women and men. It is extremely lightweight at only 2.4lbs. It features a nicely designed baseball style cap which provides that familiar wearability unlike some of the more uniquely designed laser helmets.
Kiierr products adhere to strict ISO manufacturing standards and rated for at least 15,000 hours of use, so rest assured these laser caps are built to last. Kiierr offers an impressive 2 year product warranty and 7 month money back guarantee giving its customers enhanced peace of mind.
Operation is simple. Place the helmet on your head, clip the portable battery pack to your waist, press the power on button once and that's it! The cap will even turn itself off after the 30 minute treatment time so you don't have to worry about time tracking. You will use this device just 30 minutes every other day until achieving your desired results. Like most LLLT devices, you'll see results within 2-6 months of use.
This device is second to none in specs and has a price point to match! You'll experience great results and fantastic customer service without spending thousands!
Theradome™ LH80 PRO
This is the first system that FDA approved Low-Level Light Laser Helmet. The Theradome™ LH80 PRO is a wearable laser hair therapy helmet. It is an absolutely safe over the counter LLL therapy helmet; this means it is suitable for use even at home. Theradome™ LH80 PRO design is specifical with high-quality clinical strength materials for those suffering from Androgenic Alopecia. It has 80 proprietary lasers of a wavelength of 678 nm.
The Theradome™ LH80 PRO has worn completely hands free and it covers a large treatment area on the head. Just one button operate this unique device and it is easy to use. It also has no side effects and its Results are visible at an early stage.
By the 4th-week, you can see hair growth. This LLL therapy helmet is affordable and comes with a one year warranty on purchase of this product.
IGrow Hair Growth Laser System
Igrow design is a new hair growth system that stimulates hair follicles from the source. This revolutionary hair growth system is clinically tested. It is a patented hand's free helmet that uses safe and effective low-level light therapy to regrow hair; in order to get a thick and fuller hair the helmet energize and stimulate the cellular activity in the hair follicle.
The Igrow LLL helmet is suitable for Men and Women and equip with headphones and iPod / Mp3 interface. This hair growth helmet is also affordable and comes with a 3 month free supply of HairNation's molecular hair growth program.
Compared to other laser hair treatments, the Igrow promises to help prevent hair loss and also give you a thicker and denser hair in few sessions. Its results are visible in a short period of time. The device can be used at anytime and anywhere without restricting you to one location.
For optimal results, you should use Igrow hair helmet at least once a week. Take safety precaution measure when cleaning this helmet. Ensure that you unplug the system from electrical socket before you proceed with cleaning. It is advised that no product should be used to clean it only a soft micro fiber is needed.
Other Best Selling Hair Growth Products
Traditional ways of hair treatment like using shampoo, conditioners and diffrent natural hair products work for hair growth . This review also outline three other hair products which can act as antioxidant agents, anti inflammatory, anti fungal agents. These products also grow damaged hair fibre fuller and softer. Therefore the application of this products is easy and result are visible over a period of time.
Kiierr Hair Growth Supplements Bundle (shampoo, conditioner & vitamins)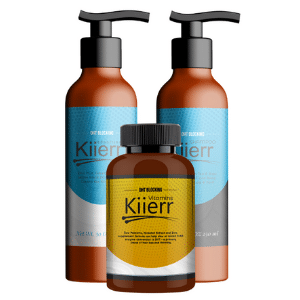 The Kiierr hair growth supplements bundle Improves scalp circulation, blocks DHT & promotes hair growth. Includes Saw Palmetto, Horsetail Extract & Zinc formula helps slow/inhibit 5-AR enzyme conversion to DHT (primary cause of hair loss).
Key Benefits:
All natural ingredients
Enhanced with Vitamin B-6, Biotin, Folic Acid
Ideal for supplementing hair loss or thinning hair regimen

Revita Shampoo & Revita.COR Conditioner
Revita Shampoo & Revita.COR Conditioner Combo Pack is ideal for both men and Women. The design of this unique product is in order to clean the hair thoroughly and also prevent hair loss and maintain hair regrowth. By using this combo pack in your hair care regimen, you can grow back your hair without changing your lifestyle. So Revita is ideal for daily use and it promises not to dry out your hair. It cleans and conditions your hair making it shine and denser.
This combo packs are made from natural ingredients and is enriched with antioxidant agents, anti inflammatory, anti fungal agents. Revita combo pack make your hair texture softer and fuller and also treats damaged hair fibers. We recommend that you carry out a spot test to check if you are allergic to the ingredients in the combo pack. And people know that it has no side effects. Revita involves a unique hair treatment process, it is easy to use and its results are visible over a period of time.
HairMax Densifying Bundle 3-Piece Kit
This hair growth product contains three products which aim at strengthening, hydrating and revitalizing your hair. It uses an advanced technology which increases the hair volume and density. The hair max densifying pack creates a natural look. Its application made is quick and easy. It is 100% safe and sulfate free. So men and women can use it who are suffering from hair loss. We will see the visible results after three months of use. And we advise you to start with the shampoo seconded by the conditioner and lastly the revitalizer.
TRX2 Hair Revitalizing Lotion
This hair revitalizing Lotion is made from the formula in the popular TRX2 capsules. Its ingredients aid to prevent hair loss. It is a topical hair loss solution which using natural ingredients. The TRX2 Hair Revitalizing Lotion is suitable for both men and women as it combats hair loss right from the root source. And it contains no fragrance or synthetic dyes. This clinically tested hair growth product helps persons affected with alopecia to have an increase in their hair volume once they start using it. Its ingredients make a powerful formula that prevents hair fall and also regrows hair.
The TRX2 Hair Revitalizing Lotion is a topical solution which penetrates the pilosebaceous follicles, therefore, enabling a more effective result. A continuous application of this lotion provides the hair follicle with the necessary potassium ions that enable nutrients to transfer effectively. Therefore enhancing a healthy hair growth and a thicker and denser hair. And its application is easy and quick.
Results are visible from 3-5 months and the result varies from person to person. For optimal result follow the application method on the labeled bottle and use the lotion over a long period of time. And this lotion is effective for frontal and temporal areas. It is made from natural ingredients which have no hormonal interference or side effect.