Rachel is a health & beauty published writer for 7 years now after a career in bio-feedback & other natural healing therapies. She's passionate about...Read more
Thanks to health experts, nutritionists, doctors, scientists, etc. we don't have to sit around while we age waiting for our wrinkles, weak joint muscles, and a receding hairline to take over. One of the greatest discoveries to help with aging is collagen.
Aging takes a toll on your body and as you age, your collagen starts to break down, making it harder for your body to produce more. Your genetics also play a big role in how fast your collagen degradation occurs.
Many people are turning to collagen supplements to help with their overall health and keep their young, bright, and vibrant look. As with most supplements, not all collagen supplements are produced effectively and equally. So, when it comes to choosing the right collagen supplement for you, there are several things to consider.
What is Collagen?
"It's the glue that holds the body together," says New York dermatologist Whitney Bowe, author of The Beauty of Dirty Skin: The Surprising Science of Looking and Feeling Radiant from the Inside Out.
Collagen is an extremely important protein that contributes to healthy joints, skin elasticity, and hair growth. It makes up 75 percent of your skin's support structure. It's found in your blood, muscles, and bones. Your body naturally produces collagen by combining amino acids and organic compounds to form proteins. Amino acids and proteins are essential to your health! Collagen fibers are made up of the four following amino acids:
Proline – Found in citrus fruits, bell peppers, broccoli, eggs, dairy, etc.
Hydroxyproline – Found in bone broth, alfalfa sprouts, etc.
Glycine – Found in coffee, oatmeal, soups, etc.
Arginine – Found in nuts, yogurt, cheese, seeds, etc.
The Different Types of Collagen?
There are several types of collagen, including types 1-16. However, types 1, 2 and 3 make up over 90 percent of all the collagen. Types 1, 2, and 3:
Type 1 – The major collagen found in the skin. Also found in muscles, tendons, bones, ligaments, teeth, and certain connective tissues. It aids in intestinal gut health, restful sleep, white blood cell production and memory.
Type 2 – Builds up cartilage and is extremely healthy for the skeletal system. Recommended for joint pain patients.
Type 3 – Sometimes called "baby collagen" because of its role in embryogenesis and infancy. This type of collagen shares many of the similar functions as type 1.
Collagen Supplement Benefits
Even if your body is producing enough collagen, there's nothing wrong with taking extra. Collagen has many benefits. It helps boost and stimulate healthy hair growth.
Collagen makes up 70% of your dermis, the middle layer of your skin that contains the root of each individual hair follicle. Providing your body with collagen can help maintain a healthy, nutritious, dermis and prevent hair loss and thinning.
In an eight-week study, 69 women aged 35–55 found that taking a daily collagen supplement significantly improved dermis elasticity and hydration compared to a placebo, translating to enhanced overall skin & hair health.
Collagen also has the following benefits:
Promotes skin, nail, and bone health
Increases elasticity in your skin – helping to reduce wrinkles
Promotes the production of amino acids, specifically Glycine
Boosts joint and cartilage health
Helps prevent arthritis.
How We Chose the Top 5 Collagen Supplements
When looking for the perfect collagen supplement for you, you should look for a trustable and reliable source. One without extra synthetic additives and ingredients. It should contain the top three types of collagen mentioned above for the best overall choice. Collagen supplements come in many forms from powders, capsules, to gummies. We've done the research and compiled this list of the top five collagen supplements for 2021. We're %100 confident in our choices.
1. Kiierr Collagen Gummies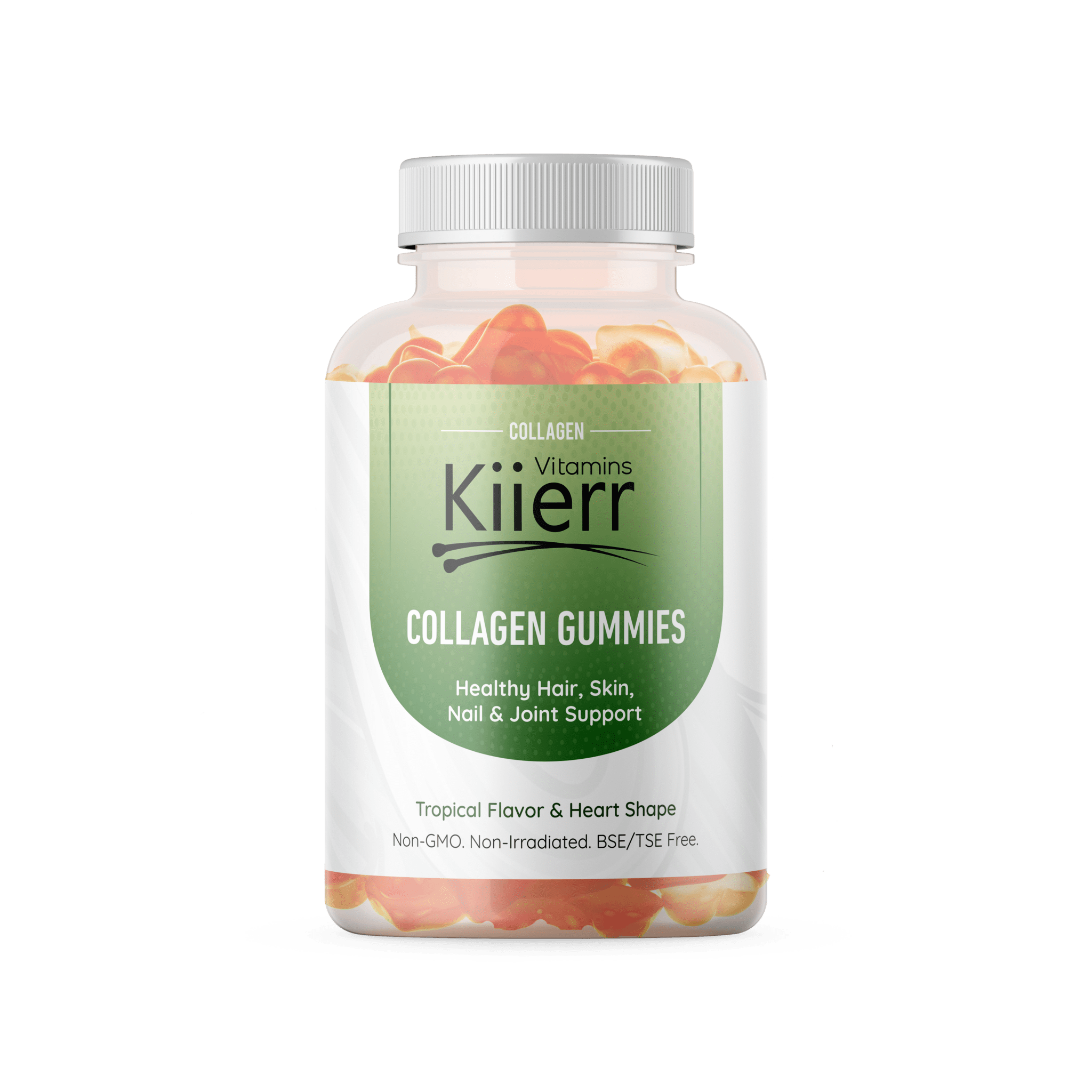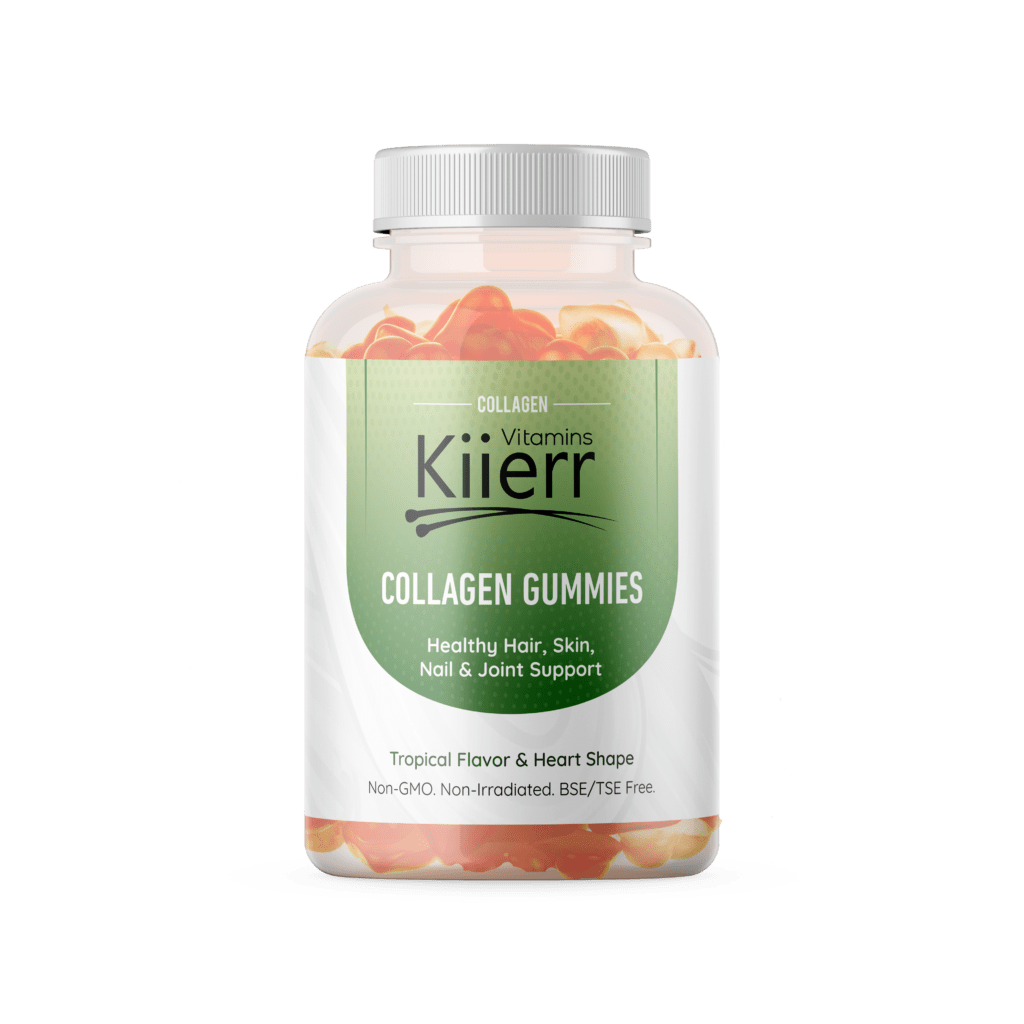 NEW on the market, introducing Kiierr's delicious tropical flavored collagen gummy supplement. This high quality supplement helps to promote healthy hair and skin. These delicious gummies provide amino acids to help support your body in building hair proteins and strengthening skin including your hair roots. It also assists in preventing age related graying and hair follicle damage.
2. Vital Proteins Collagen Peptides Powder
This grass-fed collagen supplement is made without any harmful additives or fillers, making it a healthier option. It's an easy option in powder form, just mix it with your favorite drink or smoothie.
"My go-to collagen routine is adding Vital Proteins Collagen Peptides in my morning cup of coffee or smoothie – so easy to use." -Jennifer Aniston
3. Sports Research Collagen Peptides
This non-GMO collagen supplement from Sports Research is a great option for those seeking an easy yet beneficial collagen supplement. It has 11 grams of collagen peptides per serving and is non flavored, making it a great option for mixing into smoothies, shakes, and any drink.
4. Collagen Peptides by Live Conscious
Live Conscious' Collagen Peptides contains both types 1 and 2 collagen. It has one of the most definite amino acid structures. This supplement is formulated with calcium, magnesium, and other vital minerals that work together to help support your bones & joints while also boosting your hair & nails. This product has no hidden additives, fillers, or synthetic ingredients. They offer a 365-day, risk-free, money-back guarantee.
5. Foundation Beauty Elixir by Hair La Vie
This supplement is a collagen-based drink made to specifically support healthy skin, hair, and nails. Foundation Beauty Elixir's formula contains types 1 and 3 grass-fed bovine collagens, 19 amino acids, prebiotics, keratin, vitamin C, ginger, and blue spirulina for enhanced health and beauty support. Flavored with a natural honeydew taste for a touch of sweetness. Hair La Vie offers a 90-Day money-back guarantee.
Conclusion
You know the saying, a gummy a day keeps the doctor away!? That's why we recommend Kiierr as our number one choice for a collagen supplement. Flavored with a delicious tropical taste this gummy supplement provides amino acids to help support your body in building hair proteins and strengthening your skin. Avoid swallowing a pill or having to mix in a powder supplement. Kiierr's gummies are easy, effective, and overall the best option for a collagen supplement.
Additional Resources:
https://ww.webmd.com/skin-problems-and-treatments/news/20191212/collagen-supplements-what-the-research-shows
https://health.nativepath.com/texas-doctor-reveals-the-one-collagen-dosing-mistake-56-g?hpcid=732&pub=240547&hit=529918207&c1=GoogleCollagen&c2=NonbrandSearch&utm_source=GoogleCollagen&utm_medium=cpc&utm_campaign=NonbrandSearch&utm_content=googl_acq_cpc_416017101837