Rachel is a health & beauty published writer for 7 years now after a career in bio-feedback & other natural healing therapies. She's passionate about...Read more
You know what they say, a vitamin a day keeps the balding away! Did you know the market is filled with thousands of vitamins and supplements to help promote hair growth, strengthen hair follicles, prevent hair thinning, and contribute to the overall health of your skin and nails as well? How do you know which vitamin is the best for you? What companies can you trust? We'll answer all of your questions below.
Causes of Hair Loss
Let's first start with some of the reasons you may be experiencing hair loss. When it comes to hair loss, there are many causes. Here are some of the more common causes:
Excessive Hair Treatment – Using treatments like hair dye, tinting, perming, etc, can affect your hair tremendously when done in excess.
Health Conditions and Medications – Temporary or permanent hair loss can sometimes be a result of medical conditions. Some of which include thyroid disorders, alopecia, menopause, etc. You might be using medications that can result in hair loss as well. Drugs taken to relieve conditions like cancer, high blood pressure, heart issues, and many others can contribute to temporary or permanent hair loss.
Genetics and Age – Your genetics can play a big role in determining your hair loss. Aside from genes, aging is also a factor that affects hair loss. As a person ages, they tend to experience changes in their body, that include loss of hair.
Tight Hairstyles – Tight ponytails or updos can cause stress on your hair. This strain can cause your hair to break away, split, and damage.
Vitamin Deficiency -If you aren't getting enough of certain key vitamins and minerals, you may be at risk for hair loss. According to WebMD, to help prevent hair loss make sure you are getting enough of these five key vitamins: Biotin, Iron, Vitamin C, Vitamin D, Zinc.
It might sound overwhelming, but we're here to help. There's a lot of companies out there making it easier for you to fight your hair loss. From pill capsules, laser caps, powders, oils, gummies, the list goes on and on. The hair growth supplement market today is huge! Even if your hair isn't quite to the thinning stage, it's always a good idea to get on top of it early and help prevent hair loss.
Top Ingredient Used in Hair Growth Products
If you've been reading about natural remedies and vitamins for hair loss, you may have come across an ingredient called Saw Palmetto. Saw Palmetto is gathered from berries in a North American plant known as Serenoa repens or Sabal serrulate. Saw palmetto's extracts are said to help slow or reduce the type of hereditary hair loss known as androgenic alopecia.
Saw palmetto is believed to work by reducing the activity of 5-alpha-reductase, an enzyme that converts the hormone testosterone to Dihydrotestosterone (DHT). DHT is considered a key contributing factor to the onset and progression of hair loss and androgenic alopecia…the real kryptonite! Saw Palmetto has been clinically proven to help treat hair loss, especially in men.
One study concluded, 48% of participants experienced hair growth when using a topical Saw Palmetto treatment.
Top Hair Growth Products: How we Choose
There are hundreds and thousands of hair supplements on the market today. It can be difficult to choose the right one for you. No need to worry, we're real hair experts and we've done the research for you.
The most important nutrients for hair growth and overall hair health, and the ones you should be looking for when choosing your supplements, include Biotin, Iron, Vitamin C, Vitamin D, Zinc, and of course, Saw Palmetto.
We set out on a mission to find the best top rated, most effective, hair growth vitamins and supplements on the market today. Here's what we found:
**These statements have not been evaluated by the FDA. Please consult your doctor before using any of these products.
1. Rated #1 – Kiierr DHT Blocking Vitamins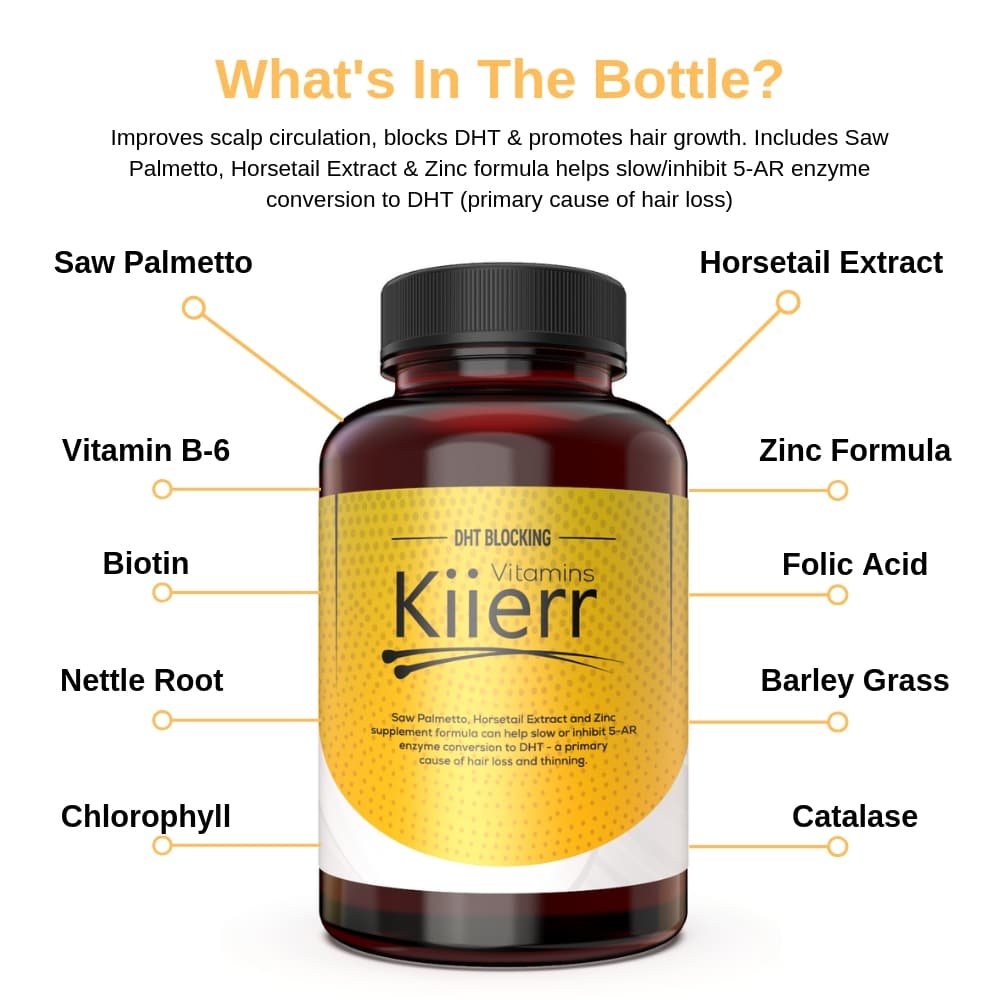 Kiierr offers one of the best DHT blocking vitamins on the market! With all-natural ingredients these vitamins help improve scalp circulation, block DHT & help promote effective hair growth. They help block DHT using Horsetail Extract, Folic Acid, Vitamin B, and Saw Palmetto. Saw Palmetto has been shown to lower the levels of DHT in both men and women.
Saw Palmetto also helps loosen build-up on the scalp that restricts microcirculation and capillary blood flow and delivery of vital nutrients and minerals to the follicle papilla and cuticle. Beta sitosterol in Saw Palmetto can help prolong and begin normal hair growth stages by stimulating enzyme buildup in both men and women.
**For maximum results, Kiierr also offers laser caps for hair loss using low-level laser therapy. Rated #1 for hair growth products.
Rated #2 – Hair Wellness Vitamins by Nutrafol

Nutrafol vitamins come in the form of a capsule and contain twenty-one powerful ingredients for better hair growth. Including their patented Synergen Complex®, an exclusive blend of clinically effective ingredients made with unique ratios shown to improve hair growth and quality. Nutrafol offers vitamins specific for both men and women and requires taking up to four capsules a day.
Rated #3 – Hair Vitamins by SugarBearHair

These vitamins come in gummy form and flavored with natural berries for a sweet taste you can enjoy! SugarBearHair is created with essential hair-friendly vitamins like biotin, folic acid, and Vitamin D. The vitamins work best taken for a minimum of 3-months, but best results are usually seen at 6 months. Results will vary from person to person. These gummies are gelatin, dairy, and gluten-free.
**Recommended for ages 13 and older. Ages under 13 must get doctor's permission.

Zenwise daily hair growth vitamins are made with over twenty-five ingredients to help nourish weak and brittle hair including Saw Palmetto. These vitamins come in capsules and are filled with natural DHT-blocking ingredients to help stop DHT levels from rising.
They also contain antioxidants and ingredients that contribute to anti-aging and improve your overall well-being, another important factor to consider when it comes to your general hair health. These vitamins are made in the USA and are gluten, soy, dairy, egg, peanut, and wheat free.
Rated #5 – Hair Vitamins by Hairfinity

These vegan vitamins come in a capsule form to help support hair growth. They have a blend of bioactive vitamins, minerals, and nutrients. Including 2500mcg of Biotin and Capilsana Complex which provides your hair with naturally occurring building blocks by boosting amino acids in Hydrolyzed Collagen, sulfur containing MSM for vitality, and hair boosting Horsetail with silica. These vitamins are intended for both men and women.
Conclusion
We're very confident in our research and list. We highly suggest purchasing a hair vitamin that contains Saw Palmetto and helps block DHT. Kierr DHT blocking vitamins do just that and more! Kiierr also offers additional hair growth products to help get the maximum amount of hair growth possible, making all of your hair dreams come true! Take it from us, go with Kiierr.
Additional Resources:
https://www.webmd.com/connect-to-care/hair-loss/best-vitamins-for-hair-loss-prevention
https://www.verywellhealth.com/can-saw-palmetto-halt-hair-loss-89919
https://www.researchgate.net/publication/272396329_The_Evaluation_of_Efficacy_and_Safety_of_Topical_Saw_Palmetto_and_Trichogen_Veg_Complex_for_the_Treatment_of_Androgenetic_Alopecia_in_Men
https://www.forhims.com/blog/dht-and-male-hair-loss-explained