You might be asking yourself, what's DHT and how it can help with my hair loss? We've got all the answers! We're hair experts and we've spent countless time researching the best DHT blocking vitamins and supplements to help you battle your hair loss. Keep reading to find the best DHT blocking products on the market for 2021!
Here are some key points about dihydrotestosterone (DHT):
Testosterone is turned into DHT by enzymes.
DHT is five times more potent than testosterone.
More than half of men are likely to experience male pattern baldness contributed by DHT.
DHT is an androgen and helps give males their male characteristics.
High DHT leads to high levels of androgens, which contribute to acne in men.
DHT causes hair follicles to miniaturize and shrink.
What is DHT?
DHT stands for Dihydrotestosterone, an androgen and sex hormone that is derived from testosterone and is a huge contributing factor when it comes to hair loss. It's produced inside your hair follicles and can be a big contributing factor to your balding scalp.
To better understand DHT, it's important to know about that hair growth cycle that each hair follicle goes through.
Anagen Phase: The cells in the bulb divide and produce new hair. Known as the "growing" phase.
Catagen Phase: The hair stops growing and detaches from the blood supply. The hair at this stage is referred to as club hair and 3% of hair is in this phase at any given time.
Telogen Phase: New hair begins to grow underneath the club hair.
Exogen Phase: Referred to as the "shedding" phase. At the end of each cycle, hair enters the resting phase before it eventually falls out. The follicle then produces new hair, and the cycle starts all over.
When DHT builds up in the hair follicles overtime, it messes with the hair growth cycle. DHT shrinks your hair follicles as well as shortens your hair growth cycle, causing your hair to grow thin and more brittle, as well as fall out faster. DHT can also make it take longer for your hair to grow back new hairs once your old ones fall out. This can eventually lead to complete baldness and your hair follicles shutting down for good.
How to Block DHT
In men, the enzyme 5-alpha-reductase transforms testosterone into DHT. After it's created, the DHT flows freely through your bloodstream and connects to the androgen receptors on the hair follicles in your scalp.
According to the American Hair Loss Association, the trick to reducing DHT levels is to use a treatment that stops the 5-alpha reductase enzyme from converting testosterone into DHT. If testosterone is not converted to DHT, the DHT message can't get to the cells in the susceptible hair follicles, and these hair follicles will continue to stay strong and grow new hairs.
There are two major effective and safe methods for DHT-related hair loss. Many of which, have been proven successful by specifically targeting DHT production and receptor binding. Below we're going to uncover the top six best DHT blocking products on the market today.
**These statements have not been evaluated by the FDA. Please consult your doctor before using any of these products.
The Top 6 best DHT Blockers
1. Kiierr (All-natural Ingredients)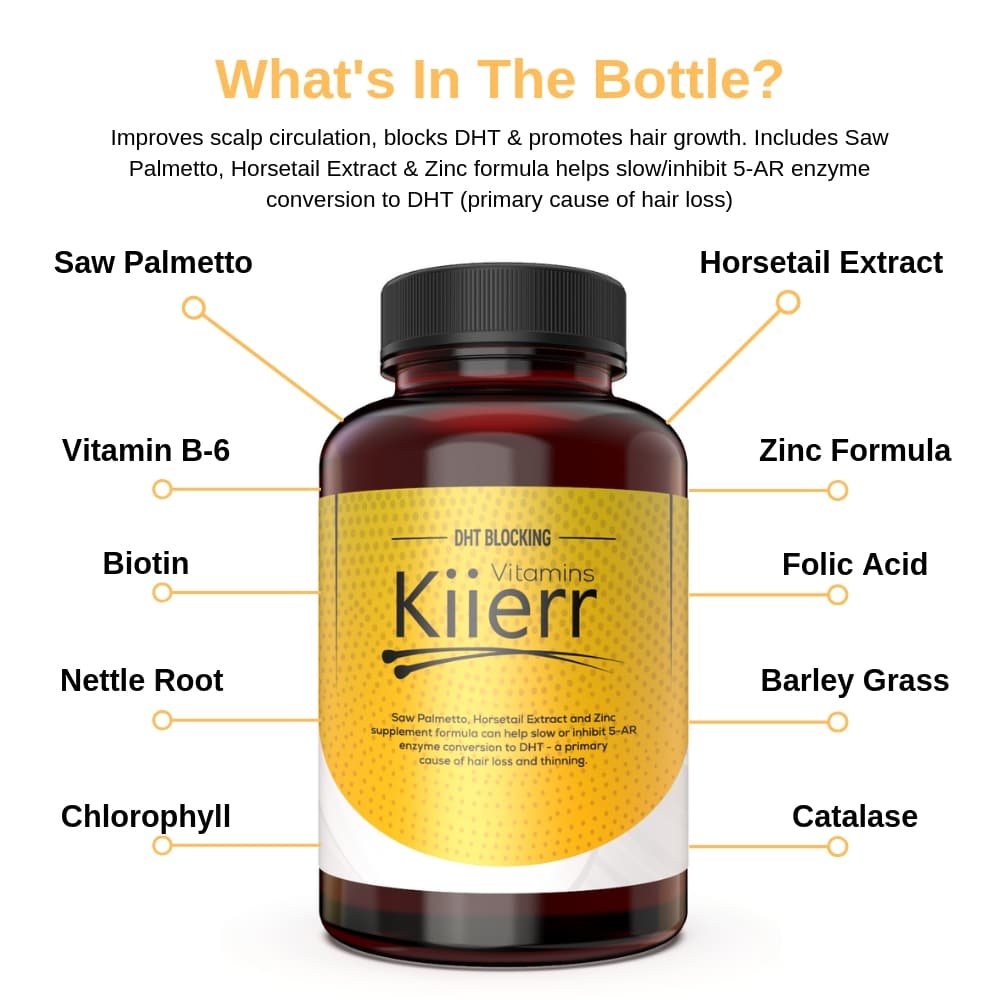 2. Kiierr DHT Blocking Shampoo for Hair Growth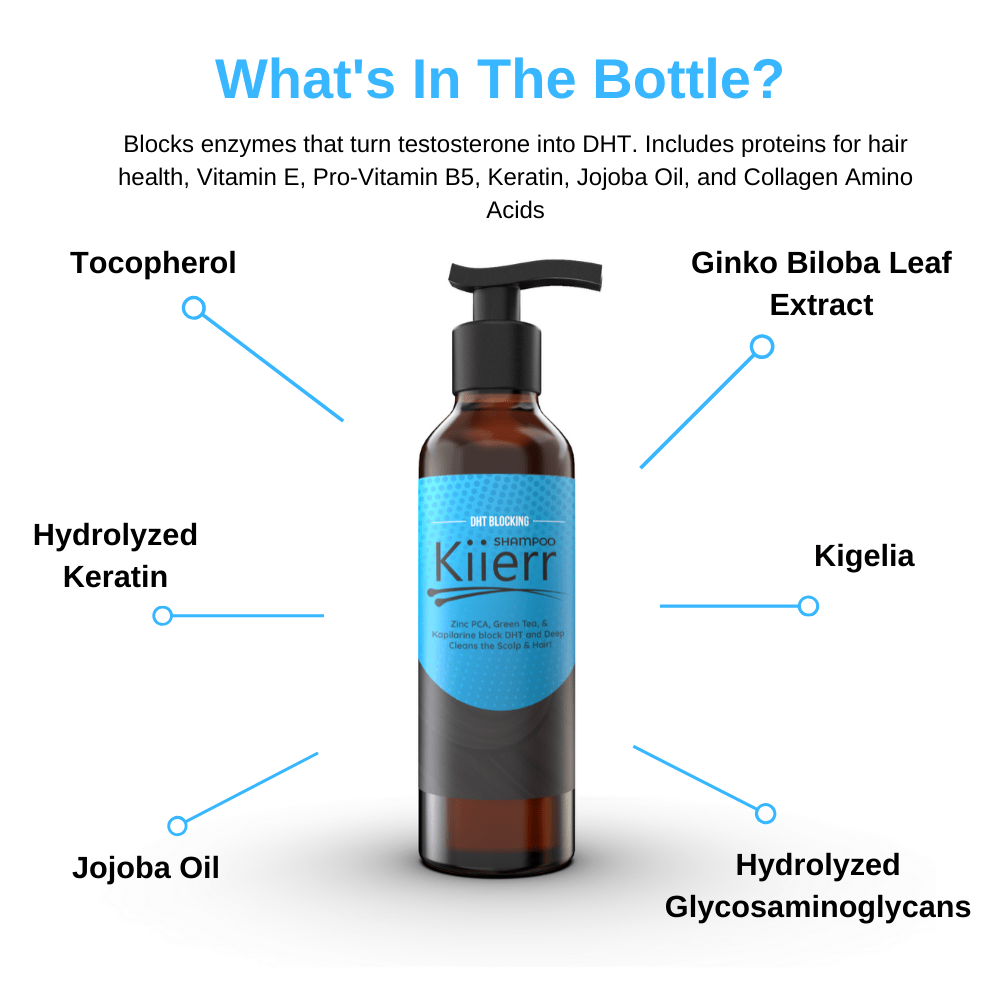 Kiierr DHT Blocking Shampoo is one of the best on the market! This product helps inhibit the conversion of 5-alpha reductase enzymes to DHT – a leading cause of hair loss and thinning (primarily in men). The shampoo is created with proteins for hair health, Vitamin E, Pro-Vitamin B5, Keratin, Jojoba Oil, and Collagen Amino Acids. It has Zinc PCA to regulate sebaceous glands that block DHT, Green Tea to reduce DHT and Cholesterol, and Kapilarine which stimulates hair regrowth and maintains hair strength and vibrancy.
Kiierr's DHT Blocking Shampoo is a powerful DHT blocker for both men and women. It's safe, effective, and smells great. Combine this product with one of Kiierr's laser caps for fast and maximum hair growth.
Best Value/Results Combo – Order Kiierr MAX Growth Bundle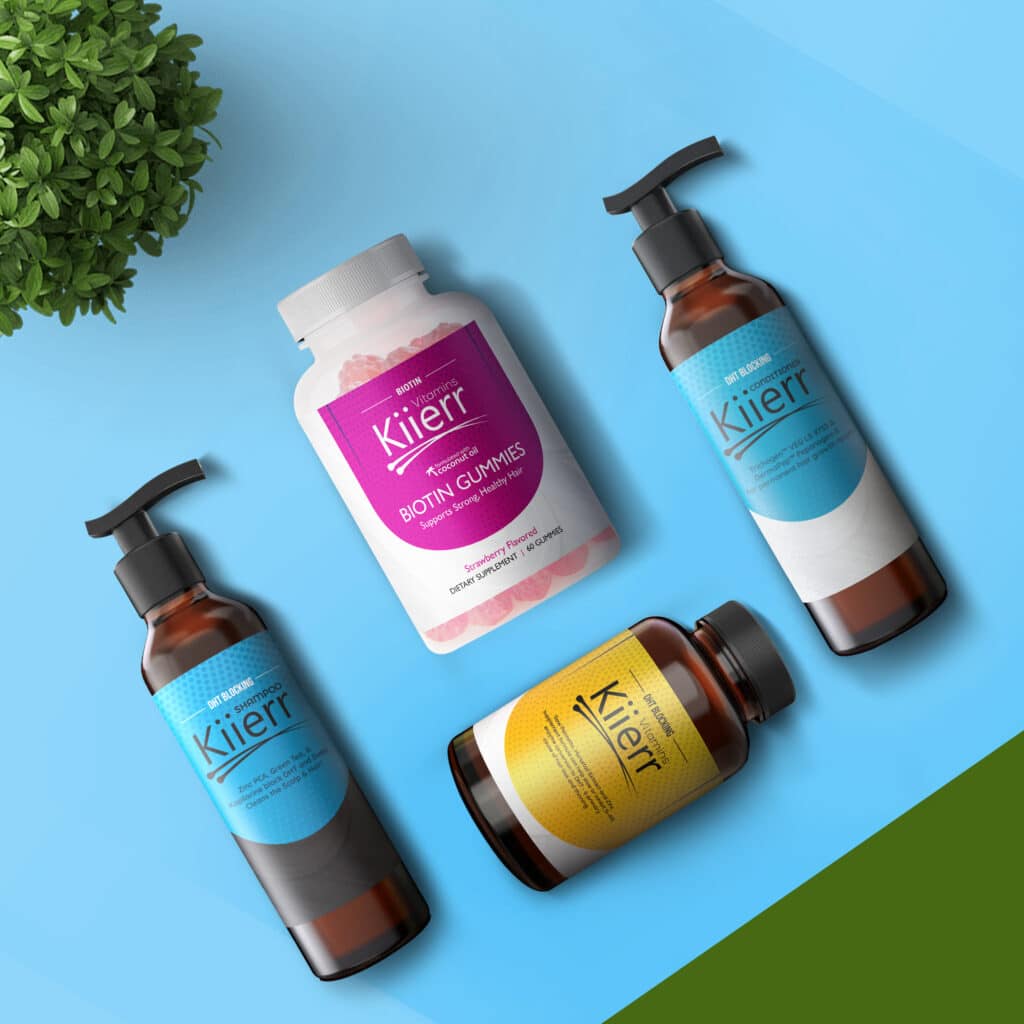 3. Advanced Trichology DHT Blocking Vitamins

Advanced Trichology DHT vitamins are the first DHT blocking vitamins to combine DHT reducing quality nutritional's with prebiotics, probiotics, anti-inflammatory, and anti-microbial supplementation. Used for gradual hair growth, immuno-support, and maximum nutrient transfer to exterior cells.
These DHT blocking vitamins are combined with immune support to block the hair loss causing enzyme, 5-alpha reductase, at the follicle receptor site rather than in your bloodstream. Immune stress hair loss is a common hair loss condition found in both men and women today. Advanced Trichology DHT blocking vitamins kill two birds with one stone. Helping to treat hair loss while boosting your immune system at the same time.
3. ThickTails Hair Growth Shampoo and Conditioner

ThickTails DHT blocking shampoo and conditioner nourishes each strand with Saw Palmetto, Caffeine, vitamin B5, and Biotin. These main ingredients keep your hair healthy and luscious. This ThickTail duo non-drying formula will also extend the life of color treated hair, meaning that you can go longer in between color treatments.
4. DrFormulas HairOmega

DrFormulas HairOmega DHT blocking vitamins are equipped with 41 ingredients, natural herbs & vitamins, that nourish and support hair rejuvenation from the inside out. Supporting healthy DHT levels with natural DHT blocking ingredients such as Saw Palmetto, Beta-sitosterol, Quercetin, Pumpkin Seed, and Pygeum.
These vitamins help provide the nutrients essential for hair growth including: Biotin, Vitamins A,C,B Complex, Iodine, Copper, Zinc, Silica, Selenium. They also help support a healthy inflammation with Green tea, lycopene, red-raspberry antioxidants, and more. DrFormulas HairOmega is a powerful 100% vegetarian formula in a vegetarian capsule.
5. PURA D'OR Anti-Thinning Shampoo

PURA D'OR Anti-Thinning Shampoo has been clinically tested to thicken hair and stop hair loss. Featuring an effective plant-based formula, this product is rich in DHT blocking ingredients like saw palmetto and nettle extract, which increase hair thickness with regular use.
This shampoo for thinning hair is made with a combination of 17 key ingredients, including argan oil, amla oil, tea tree, niacin, pumpkin seed oil, rosemary oil, green tea extract, hibiscus flower oil, vitamin E, black cumin seed oil, pygeum bark extract, biotin, red korean seaweed, and He Should Wu. This product is free from sulfates, parabens, and silicones.
Conclusion
When it comes to hair loss DHT is five times more potent than testosterone and a huge contributing factor in both men and women. But don't worry there is hope, found in DHT blocking products. We're hair experts and we've researched in depth the top six DHT blocking products listed above. At the top of the list is Kiierr's amazing DHT blocking shampoo. The shampoo is created with proteins for hair health, Vitamin E, Pro-Vitamin B5, Keratin, Jojoba Oil, and Collagen Amino Acids. Combine this product with one of Kiierr's laser caps for fast and maximum hair growth. What are you waiting for? Stop your DHT today and get your full head of hair back!
Additional Sources:
https://www.webmd.com/skin-problems-and-treatments/hair-loss/hair-loss-causes-women
https://www.americanhairloss.org/hair_loss_research/future_of_medical_treatments.html