Biotin… it's probably a word you've heard before associated with hair growth. But do you know why it's essential for your hair? We've got all the details on the importance of biotin and we're revealing the TOP SIX BEST biotin products on the market today.
What is Biotin?
Biotin is a coenzyme and a vitamin B, found in foods such as dairy products, eggs, peanuts. wheat germ, some whole-grain cereals, salmon, chicken, and more. As part of the vitamin B group it's an important component of the enzymes in the body and it helps convert food into energy.
Biotin is an essential nutrient for your skin, hair, and nails, and plays an important role in your enzymatic reactions. These enzymes are vital in numerous metabolic processes. Recently, the new roles of biotin have been identified in the roles in cell signaling and epigenetic management.
Why Does Biotin Matter?
When your body is deficient in biotin your hair becomes weak, brittle, and is subject to more damage and hair loss. According to a study found on The National Library of Medicine, they found that in 18 reported cases of biotin use for hair and nail changes. In all cases, patients receiving biotin supplementation had an underlying pathology for poor hair or nail growth. All cases showed evidence of clinical improvement after receiving biotin.
It's been clinically proven that Biotin is an essential vitamin and it's especially important in regards to hair loss and hair loss prevention.
Top Biotin Supplements on the Market: How we Chose
When it comes to biotin, there are hundreds and thousands of supplements on the market today. It can be difficult to choose the right one. No need to worry, we're hair experts and we've researched the TOP biotin supplements available and we're %100 confident in our choices.
**These statements have not been evaluated by the FDA. Please consult your doctor before using any of these products.
Rated #1 – Biotin Gummies by Kiierr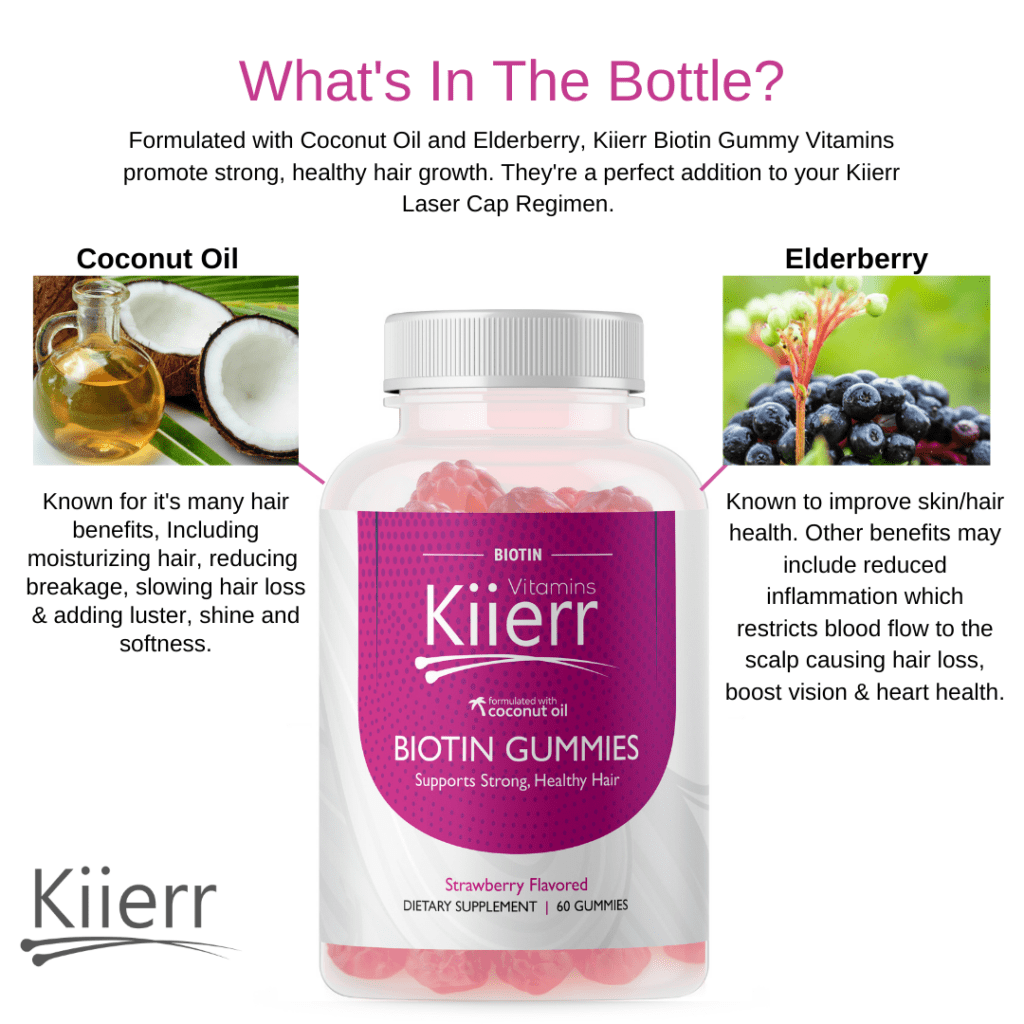 These delicious FDA-cleared top rated biotin gummies are made with all-natural ingredients for hair growth. They are formulated with Coconut Oil, Elderberry, and 2,500 mcg of Biotin to promote strong healthy hair growth.
Coconut oil is known for its many hair benefits, including moisturizing hair, reducing breakage, slowing hair loss, and adding luster, shine, and softness. Elderberry is known for improving hair health and skin, while also reducing inflammation which restricts blood flow to the scalp causing hair loss, boosting vision, and heart health. Kiierr's biotin gummies have a five-star rating, and they offer additional products to help maximum hair growth as well.
Best Value/Results Combo – Order Kiierr MAX Growth Bundle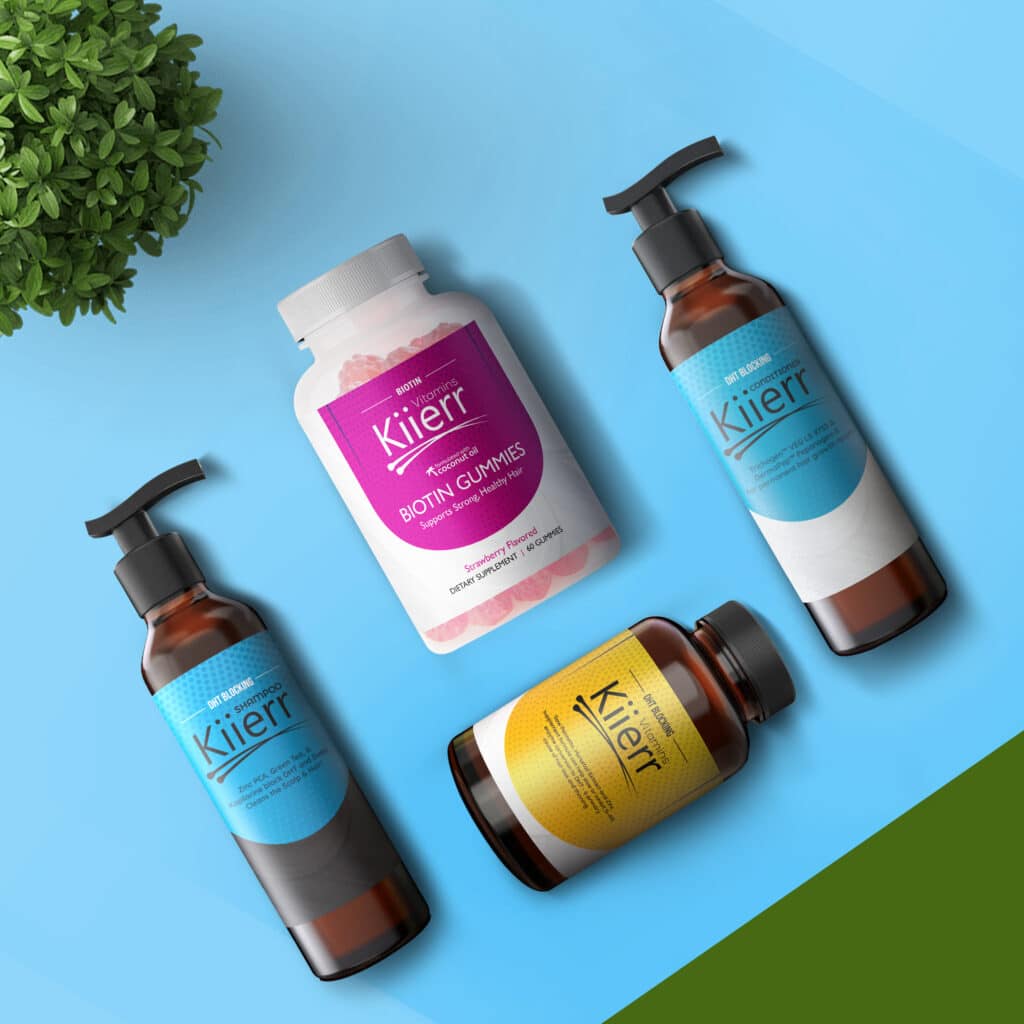 Rated #2 – Hair Vitamins by SugarBearHair

These vitamins come in gummy form and flavored with natural berries for a sweet taste you can enjoy! SugarBearHair is created with essential hair-friendly vitamins like biotin, folic acid, and Vitamin D. The vitamins work best taken for a minimum of 3-months, but best results are usually seen at 6 months. Results will vary from person to person. These gummies are gelatin, dairy, and gluten-free.
**Recommended for ages 13 and older. Ages under 13 must get doctor's permission.
Rated #3 – Olly Ultra Hair Vitamins

These vitamins come in a soft gel capsule form and are formulated to promote strong hair, prevent breakage, preserve pigment, and boost hair growth. Made up of biotin, vitamin D, folate, vitamin B12, zinc, copper, keratin, amla fruit extract, and silicon. It can even help protect hair pigment. These soft gels are made with a hint of strawberry, and zero sugar.
Rated #4 – MegaFood Skin, Nails & Hair Supplement

MegaFood Skin, Nails & Hair Supplement have 300 mcg of biotin. This supplement is in pill form and is enhanced with the brand's Skin, Nails & Hair Support Blend, which consists of nurturing herbs such as organic horsetail leaf, organic nettle leaf, organic rosemary leaf, organic ginger root, organic turmeric root, organic blueberry and more. It's also available in a limited herb formulation through Skin, Nails & Hair 2. Made with wholesome nutritional yeast, herbs, and added nutrients. Their goal is to work with farmers who share their commitment to organic and regenerative agriculture.
Rated #5 – Sports Research Biotin

This veggie biotin supplement comes in a liquid soft gel taken once daily with food and is an essential micronutrient infused in Keratin synthesis. Formulated with Organic Virgin Coconut Oil and 2,500-10,000 mcg biotin. This supplement is an easy one to add to your daily routine.
Conclusion
Most people are starting to shift towards vitamins and supplements in a gummy form. Let's be honest, it's way easier than swallowing a huge pill. At the very top of the list is Kiierr's biotin gummies. Not only are they delicious, but they are super affordable. Kiierr also offers additional hair growth products to help get the maximum amount of hair growth. Take it from us and check out Kiierr's biotin gummies for the best and yummiest hair growth experience possible!
Additional Resources:
https://www.ncbi.nlm.nih.gov/books/NBK554493/