Rachel is a health & beauty published writer for 7 years now after a career in bio-feedback & other natural healing therapies. She's passionate about...Read more
We've Done the Research for You: 2021's Top 5 DHT Blocking Vitamins
Dihydrotestosterone (DHT), not exactly a word you use every day, is a hormone derived from testosterone and is believed to be a big contributing factor when it comes to hair loss, especially in men. DHT is produced inside hair follicles, which is why some topical treatments available on the market are deemed ineffective, unless they saturate into your scalp and attack the DHT in your hair follicles.
DHT blocking vitamins are known to help stop hair loss from the inside out. Unlike other harsh hair loss treatments, DHT blocking vitamins are all natural and gentle. There are a lot of options to choose from in today's market. Don't worry, we've got you covered! We did the research for you and rounded up the top 5 best DHT blocking vitamins.
What Vitamins Help Block DHT? The Best DHT Blocking Vitamins
1. Kiierr (All-natural Ingredients)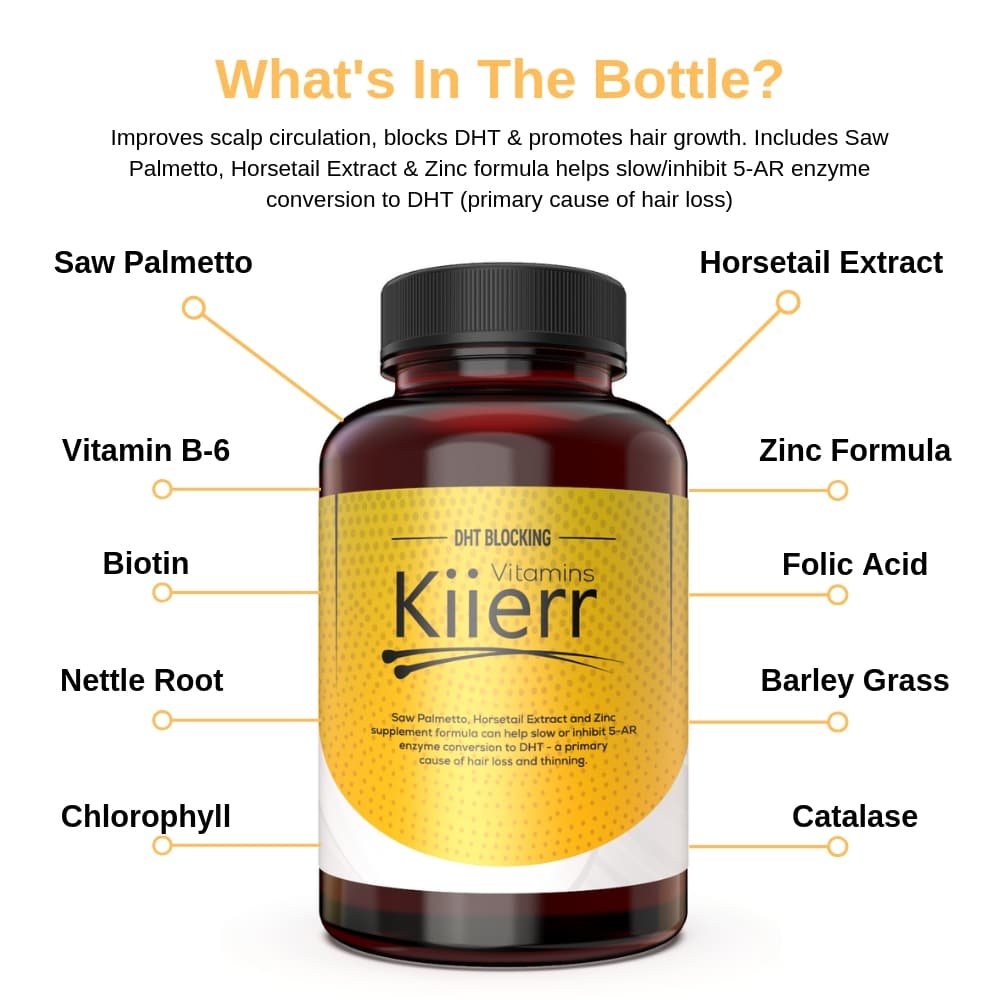 Best Value/Results Combo – Order Kiierr MAX Growth Bundle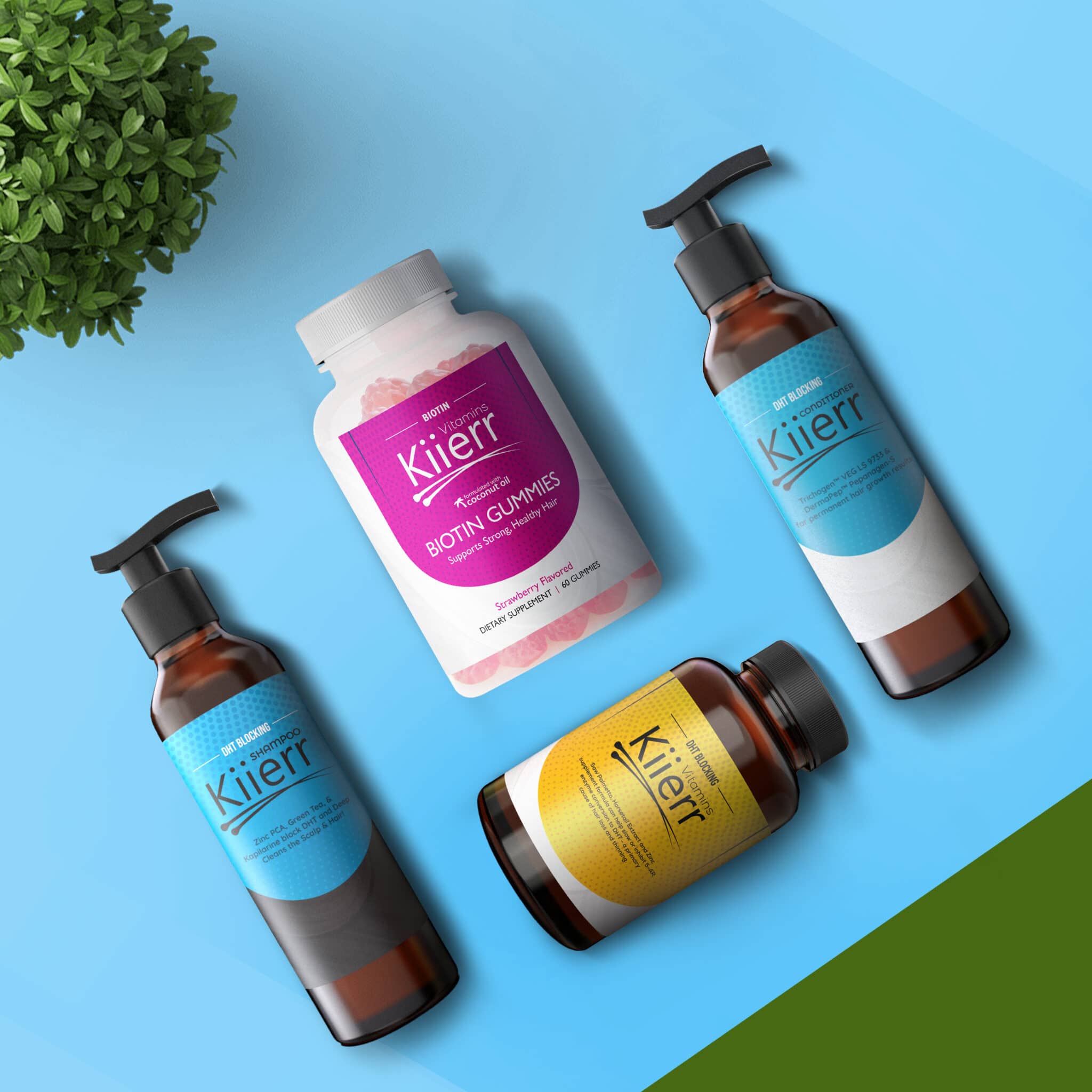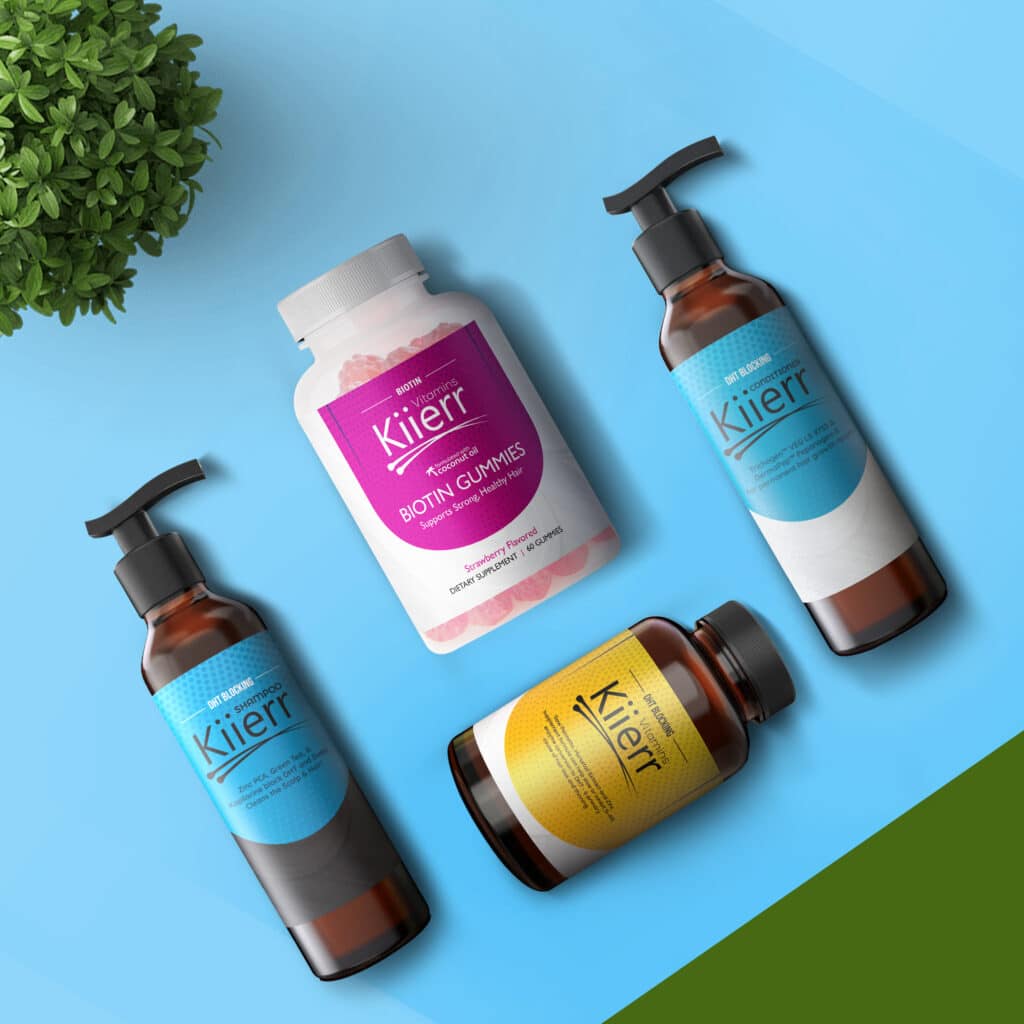 Kiierr offers one of the best DHT blocking vitamins on the market. These all-natural vitamins improve scalp circulation, block DHT & help promote effective hair growth. They help block DHT using Horsetail Extract, Folic Acid, Vitamin B, and Saw Palmetto. Saw Palmetto has been shown to lower the levels of DHT in both men and women.
Saw Palmetto works by blocking the main enzyme called 5 alpha reductase which can build-up around the base of the hair follicle. Saw Palmetto also helps loosen build-up on the scalp that restricts micro-circulation and capillary blood flow and delivery of vital nutrients and minerals to the follicle papilla and cuticle. Beta sitosterol in Saw Palmetto can help prolong and begin normal hair growth stages by stimulating enzyme buildup in both men and women.
**For maximum results, Kiierr also offers laser caps for hair loss using low-level laser therapy. Rated #1 for hair growth products.
2. Advanced Trichology

Advanced Trichology DHT vitamins are the first DHT blocking vitamins to combine DHT reducing quality nutritional's with prebiotics, probiotics, anti-inflammatory, and anti-microbial supplementation. Used for gradual hair growth, immuno-support, and maximum nutrient transfer to exterior cells.
These DHT blocking vitamins are combined with immune support to block the hair loss causing enzyme, 5-alpha reductase, at the follicle receptor site rather than in your bloodstream. Immune stress hair loss is a common hair loss condition found in both men and women today. Advanced Trichology DHT blocking vitamins kill two birds with one stone. Helping to treat hair loss while boosting your immune system at the same time.
3. Zenwise

Zenwise daily hair growth vitamins are made with over 25 ingredients to help nourish weak and brittle hair. These hair growth capsules are filled with natural DHT-blocking ingredients to help stop DHT levels from rising.
These vitamins also contain antioxidants and ingredients that contribute to anti-aging and improve your overall well-being, another important factor to consider when it comes to your general hair health.
*USA-Made and GMP Certified Formula. Soy-Free, Gluten-Free, Dairy-Free, Egg-Free, Peanut-Free & Wheat-Free
4. DrFormulas HairOmega

DrFormulas HairOmega DHT blocking vitamins are equipped with 41 ingredients, natural herbs & vitamins, that nourish and support hair rejuvenation from the inside out. Supporting healthy DHT levels with natural DHT blocking ingredients such as Saw Palmetto, Beta-sitosterol, Quercetin, Pumpkin Seed, and Pygeum.
These vitamins help provide the nutrients essential for hair growth including: Biotin, Vitamins A,C,B Complex, Iodine, Copper, Zinc, Silica, Selenium. They also help support a healthy inflammation with Green tea, lycopene, red-raspberry antioxidants, and more. DrFormulas HairOmega is a powerful 100% vegetarian formula in a vegetarian capsule.
5. Propidren by HairGenics

Propidren DHT blocking vitamins contain Saw palmetto, Biotin, Vitamin B, Horsetail, Nettle Extract, Fo-TI, Pygeum Bark Powder and other powerful DHT blocking ingredients. These vitamins also include Biotin to help strengthen weak hair. Biotin is a B Vitamin that produces keratin, boosts hair elasticity (minimizing breakage), and covers your hair in a protective layer to help it make stronger. Biotin helps to induce growth of both your hair and new skin cells, making them strong and vibrant.
For the best results, use these vitamins for at least 3 months to see the results of hair loss. Propidren offers 100% money back guarantee.
Best Supplements for Blocking DHT
There are a lot of DHT blocking supplements and products on the market today. Some of those including shampoos, conditioners, topical ointments, etc. So what makes DHT blocking vitamins the best? One simple swallow a day to help treat your hair loss. It's easy, convenient and effective!
Conclusion
Scientific research on hair loss has shown that the one of the number one factors contributing to hair loss is the production of dihydrotestosterone. DHT blocking vitamins have been clinically proven to stop hair loss and help regrow and thicken hair. A pill a day, takes your hair loss away! So what are you waiting for? Purchase your DHT blocking vitamins today.
Additional Resources:
https://www.webmd.com/skin-problems-and-treatments/hair-loss/hair-loss-causes-women