Rachel is a health and beauty writer with seven years of experience in the industry. She began her career as a practitioner of bio-feedback and...
Over the years, the use of light therapy devices for treating several disorders has become very popular. Across the globe, there is an increasing awareness of the efficacy of red light therapy for pain relief, seasonal affective disorder, skin disorders and circadian rhythm sleep disorders. However, it is important that you get the right product to derive the right results. That is why this review looks at the best light therapy device on the market.
A lot of people don't know that long winter periods can lead to seasonal depression. Mental health experts advise that such people expose themselves to as much sunlight as possible. However, there are seasons when you can't just get enough sunlight. It is at such times that a light therapy device can become very necessary. Sometimes, you do not require pills to overcome depression. A daily dose of infrared light can greatly boost your happiness in a natural way.
For some people, they have such issues but do not know what to do about them. Others know what they need but do not know how to get it. Yet, there are some others who can't just make a choice from the plethora of products available to them. This ultimate guide has simplified your search for you. Perhaps, you need the best light therapy device for any health or beauty issue. This list of 7 best infrared light therapy devices is for you.
Why You might Need a Light Therapy Device or Lamp
You can use light therapy lamp for the following purposes;
A light therapy lamp is great for several skin conditions, according to sources, including smoothening the skin tone, creating a healthy face glow, healing blemishes, reducing redness, broken capillaries, and flushing, increasing skin moisture, preventing hair loss and stimulating its growth, rebuilding collagen and reducing all manners of wrinkles.
Treatment of Injuries, Wounds and Pain
One amazing factor about the light therapy is that it can help to improve the condition of non-healing wounds. It speeds up the healing of injuries and wounds, as well as reducing pain and inflammation.
Treatment of Arthritic and other Orthopedic Conditions
This is another fact that is elusive to many people, but light has been a major therapy for all sorts of orthopedic and arthritic conditions for many years. Whether it's knee pain, broken bones, back pain, tendonitis, plantar fasciitis, sprain, sciatica, carpal tunnel, and so on, this is a good treatment.
Benefits of Using Light Therapy
It is extremely non-invasive and, therefore, attracts little or no side effects.
Completely safe for all skin types.
It is also safe for people of all ages.
100% natural, non-drug and contains no chemicals.
It is non-ablative, so you don't have to worry about breakage.
It can be administered easily in the home.
Products Review
Full Body LED Red Light Therapy by Joovv
There are several reasons why this product comes first in my review. Unlike several small therapy lamps that concentrate on just specific parts of the body, this is a full body lamp. ThIs full body Therapy light by Joovv uses the latest LED technology that delivers up to 100 mw/cm(2) of light. Also, it is not one of those inferior products that lasts for a few weeks and packs up. This product gives you more than 50,000 hours of value.
You can simply hang the device on the back of a door, a wall or any other suitable spot using the custom hook. Then turn on the power and soak in the light. It is a great way to treat several skin problems and injuries to bones and tendons. It is also not bulky; the slim profile making it easy to store anywhere in your home. With dimensions of 37.5" x 8.25" x 3" and a wavelength of 660 nm, stand just inches away and let it work its magic.
The EMF output is just below 2 MilliGauss; a safe level considering industry standards. The light is also rated for 300 watts, which is a good enough power draw. This is definitely one of the best light products you can find out there.
Pros:
It is a full body light device and can perform its work on any area of your body.
Easy to install and use; just hang behind your door and turn it on.
It is a light therapy home device that you can use on your own in the comfort of your home.
Great for skin clarity, rosacea, good skin texture and tone.
Also effective for the treatment of freckles, wrinkles, stretch marks, age spots, and scars.
Features a pulley device that enables you to adjust the height level of the light.
The product comes with a 2-year warranty, so you don't have a problem.
Cons:
At 18 pounds, it is a little heavy to carry around.
Requires patience and consistent use for results.
Philips HF3418 Energy Up White Light Therapy 10000 Lux Concentration UP LED Lamp
This is another amazing light therapy device you can find on the market. The brand already gives you an idea of its quality and tells you what to expect. It is a safe way to treat your skin and health issues without worrying about side effects. Philips HF3418 Energy Up White Light Therapy Lamp meets the photobiological safety standard IEC 62471, and will not cause any damage to your eyes. Also, the light that this  device produces does not contain UV, and therefore will not cause sunburns.
Furthermore, you don't need to sit so close to the device for you to get the benefits of the light. A distance of 50 to 75 cm is just enough to achieve the right results. With a rated voltage of 100-240V, free voltage of 50/60Hz, and a LED life of about 10,000 hours, this is definitely good value for money. It uses a High Power LED to help users feel more energized, help adjust their circadian rhythms, and gives them much relief from winter blues. All you need is between 20 and 30 minutes everyday and you're good to go.
It is a high-performance therapy that helps you stay active all day long. This infrared light therapy product is also a good way to fight fatigue and energy dips. You should give it a shot.
Pros:
It is a great way to boost energy and concentration without taking pills.
Only requires 20-30 minutes of your time each day for best results.
The light is natural, 100% UV free and is completely safe for you.
It is also safe for the eyes, doesn't affect sight and you won't even require Anti-UV glasses.
The rated voltage of 100-240 V is compatible with what is obtainable in the states and most other countries.
It does not cause sunburn or skin irritations.
It can be focused on specific areas of the body for intentional treatment.
Small and mobile due to its size.
Cons:
It cannot work on all parts of the body at once, as it is not a full-body light device.
Bright Light Therapy Box- Alaska Northern Lights- North Star 10,000
If you desire a light therapy device that is large, compact and easy to carry, then this might just be what you want. It's design mimics the shape of a briefcase with a handle for easy transport. It is a white light therapy box and can serve 2-in-1 functions. First, as a therapy light for several conditions, and also as a simple tool for illumination. So while you're enjoying the benefits of the light box, it can help illuminate your work station. So you don't need to leave the room light on and disturb anyone's sleep.
More so, it is one of the best treatment for winter blues. No wonder it has sold over 50,000 units since its introduction to the market. The 2-feet box is 10,000 LUX and offers a 60 day trial, where you can get 100% refund if you're not satisfied with the product. It is also a very safe device, built with EMF and UV shielding to protect you. But that is just an extra. The broad spectrum biax bulbs are not harmful because they don't possess UV.
This product is smartly designed. The reflector ensures the light is spread evenly across the subsurface of the diffuser for even distribution. You can join the league of users who know what's good for them and enjoy about 5 seasons of light therapy when you buy this product. There are no electromagnetic fields and no irritating flickers or noise. It sits conveniently on your table top and can be easily moved around. It is true that the more intense the light, the more effective it is. But the product's diffuser glare is low to shield your eyes.
Pros:
Comes with a 60-day money-back guaranty, which also suggests a free trial for that period.
It also comes with a 7-year warranty for the actual owner.
Safe device; the light doesn't harm the skin or eyes.
It is a quiet device and doesn't make any irritating sounds or flickers.
Only requires 15-30 minutes use everyday for optimum results.
It can last for up to 5 seasons.
It is carefully designed for enhanced efficiency.
The product is recommended by doctors.
Cons:
The box might have issues standing without the additional stand.
The light is not dimmable.
Aurora LightPad Max – 10,000 LUX Bright Light Therapy Box by Alaska Northern Lights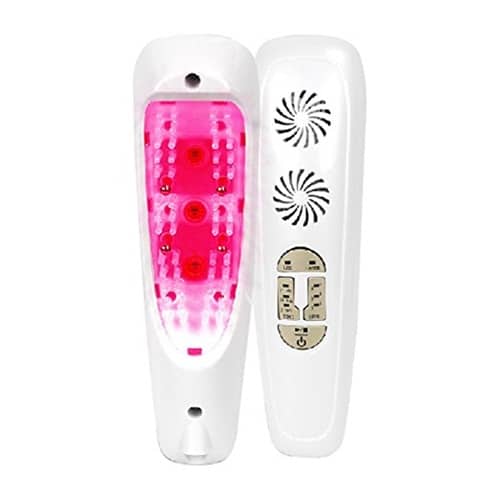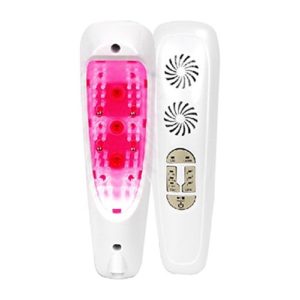 This is another amazing light box. I particularly love this for its sleek exterior design; it looks like a large computer pad. It is another 10,000 LUX LED therapy box in this review and is sure worth every penny you spend. More so, it is one of the largest LED boxes on the market, and unlike the Bright Light Therapy box, this one has a stand that gives it support. Aurora LightPad Max is also produced by Alaska Northern Lights, constructed with 600 white LED lights.
The light box also features 13 different angle options with which you can set the light to your preferred angle. This serves as intensity control, as you can choose the brightness level that you desire. It is a great therapeutic device you should have in your home; it helps to  increase energy levels and enhances your mood naturally. And it is free from harmful UV and causes no damage to the eyes. With a product dimension of 9 x 1 x 13 inches and weight of 2.6 pounds, there's no better convenience than this.
So you can step out in style every time and feel good about yourself. You also do not have to worry about the winter blues. Aurora LightPad Max has got you covered.
Pros:
The LightPad is designed to last up to 20 years; that's long term value for money.
Brightness and intensity are fully adjustable on 3 different levels, so you can choose what works for you.
The modern sleek design gives it an appealing exterior look.
With 600 bright LED lights, you can be sure of satisfaction.
You can also choose the angle that suits you from 13 different options.
It is extremely lightweight.
Cons:
First time setup might prove difficult.
EASYBEAUTY PDT LED 4 in 1 Photon LED light therapy electric face massager body beauty skin care photon therapy machine
The first time I set my eyes on this 4-in-1 Photon LED light therapy machine, I was impressed by its exterior design. Then I realized the multiple functions it is built to handle. Then I knew it definitely has to make my review of best light therapy devices. It works around the face and neck areas. It is also highly automated and does not require so much manual control. The Roller Probe  works on the face and neck areas while the Ball Probe takes care of the eyes and nose areas.
It is a non-invasive and totally safe treatment for all your skin conditions. From acne to wrinkles and taking care of winter blues, this is perhaps the best thing you can trust. It is also very easy to operate, with control buttons at the top. You can adjust the frequency on the screen as well as the power control. If you desire an efficient, non-invasive, and high-tech solution to your skin, this is worth a try.
Pros:
It is wireless, so you don't have to plug to use.
The device is rechargeable, meaning you can use it anywhere once charged.
It is very portable too and you can be take anywhere without hassles.
EASYBEAUTY LED light therapy machine is lightweight and easy to transport.
It focus on specific areas around the face and neck.
The frequency is adjustable.
It is also a completely safe machine.
Cons:
It is not a full-body light device.
The design means you will have to lie down to use it.
Moxibustion + Aromatherapy Han-Moxa™ Red LED Light Device for Pain Relief Therapy
This is another amazing entry in my review of best light therapy devices. It is a smart system that makes aromatherapy easy and fun. It uses the Moxibustion formula, an Asian practice that has been around for thousands of years. And it is known for its efficacy in aromatherapy and health care. Using moxa leaves and the heat of light, the body is free from all pathogenic factors. It is not suitable for use by pregnant, nursing or menstruating women, as well as children under 7 years old.
That simple traditional therapy has been modernized and improved with technology. It has an inner thermal microcirculation fan that works to gather heat quickly and concentrate it on parts of the body that need it. The permeating power of the red light enhances absorption
It is not prescribed for people with cardiac disorders, Alzheimer's disease, and some skin conditions. Be sure to read up before you use. And even after you buy, you can return within 60 days for a full refund if you're not satisfied.
It also comes with a 1-year warranty for full customer support. The semi-closed grid slows down the thermal energy to protect the skin from high heat. It also prevents accidents due to fire, electricity or carbon monoxide.
Pros:
Includes a 60 day trial period with full refund if found unsatisfactory.
1 year customer warranty for customer support.
It is portable and has a car charger, so you can power up on the move.
The device is equipped with safety mechanisms that protect you from skinburn, electric shock, fire, and carbon monoxide poisoning.
The fan impeller helps to focus heat on specific areas it is needed.
It is the most affordable in this review.
Easy to use and adjustable to suit your needs.
Cons:
Cannot be used by everyone.
Northern Light Technology Flamingo 10,000 Lux Bright Light Therapy Floor Lamp, Black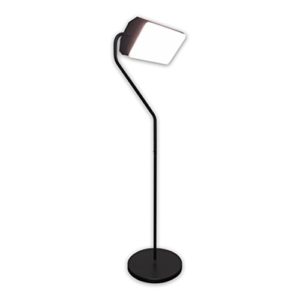 By now, Northern Light Technology should be a familiar name in your memory. The reason I have featured a number of its products is because of their quality and efficiency. This is small, easy to carry and very portable. It is a floor device that you can use while you study or work on your table. It has a very steady stand that keeps it intact. And it also doubles as a floor lamp for illumination. With a consumption of only 48 watts, you can enjoy full light therapy benefits of 10,000 Lux at a distance of 12″.
The Flamingo is a great solution for winter blues. All you need is 30 minutes every day. It stands at 4 feet and weighs only 10 lbs. It comes with both a 30-day money-back guarantee and a 7 year warranty. This is definitely worthy of a try.
Pros:
It can be adjusted in several angles.
It is very sturdy, especially due to its heavy base.
Produced by a well established company in North America.
The light screen is large and can light up your entire face.
The height is also adjustable.
Cons:
You need to stay really close to it for optimum results.
Not much variability in height adjustments.
Things to Consider before Choosing a Light Therapy Device (Buying Guide)
It is no longer news that light therapy has greatly improved people's lives. While you may be excited about getting your first light therapy device or changing an old one, be sure you know what you really need. Here, I will present certain factors you should consider before you make a purchase.
There are a lot of things to consider in safety. You need to be sure that it is free from UV, safe on the skin and the eyes too. You should also be sure that the device will not lead to a fire accident, electrocution or poisoning. Ensure you look out for all these before you make a purchase.
Full-body or Concentrated Machines
It is also important that you determine what kind of device you want. There are full body light devices that take care of every part of the body. There are also light boxes that designed for specific areas of the body. Make your choice based on what you want.
While we all desire something light and easy to carry, weight is also a factor of quality. Some devices may be heavy because of what they are designed for, eg, full-body light machines. However, if it's a small light box, it is often more convenient to go with the lighter one.
Like with every other product, the price of a light machine is also an important factor. While I agree that quality may determine price, it is important that you work within a budget. You will be surprised that the best light therapy lamp for you might not necessarily be the most expensive.
Convenience: Wall or Tabletop?
Some light devices are built to sit on a table, others are meant to be hung on a wall or behind a door. Whatever the case, choose what suits your need. If you're going to be sitting while you enjoy your light machine, a table top is fine. If you'd rather stand, the one behind the door or on a wall is most appropriate.

Frequently Asked Questions
Are all light boxes cordless?
Ans: There are actually a few cordless light boxes on the market. The cordless boxes are usually rechargeable, like the Moxibustion + Aromatherapy Han-Moxa™ Red LED Light Device. However, most lightboxes are not cordless and will need to be plugged.
      2. How do I replace a burnt out bulb?
Ans: For some of the products here like the Aurora LightPad Max come with a lifetime warranty. Others such as the Bright Light Therapy Box have as much as 7 years manufacturer's warranty. So you don't really have a problem. However, for other products, you can simply contact the seller or manufacturer.
      3. What if I just laid the full body therapy light on my body rather than stand in front of it?
Ans: I do not think that is a safe thing to do. So you should not. However, when a new version that allows you do that is produced, I will inform you.
       4. Will a therapy light box help with Vitamin D?
Ans: As effective as these products are, they are not for vitamin D. You will need sunlight or supplements for that.
Conclusion
For many years, more people are aware of the benefits of light therapy throughout the world. Insufficient sunlight is no longer an excuse as you can simply get a therapy lamp or box. But it's not just about getting any light device. Finding the best light therapy device is an important factor in getting the benefits of therapeutic light. These products above are some of the best light therapy devices on the market.
Based on your need and preference, you can pick any one and be sure to get immense benefits.