Over the last few years, more and more people have been using red light therapy to treat a variety of conditions. If you have never heard of red light therapy, you are not alone. It has been used and tested over the past few years, but it hasn't been reported much until recently. Over the last several years, Red light therapy has come a long way and according to a variety of clinical studies, it really does work.
Red light therapy involves using low-power red light wavelengths. The light is emitted directly through the skin. When you are having the treatment performed, you will not feel it at all. Since the light does not produce any heat, you won't feel it at all. The light is absorbed between 8 and 10 millimeters into the skin. It goes deep enough to have a positive effect on several of the bodies systems. There are several ways that red light therapy can benefit a person's mind, body, and their health.
1. ReGrowing Thin or Balding Hair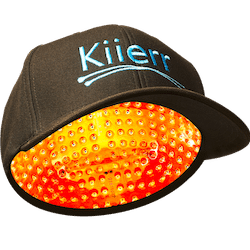 Low Level Laser Therapy (LLLT) for hair regrowth has been FDA approved now for many years. It has proven itself as a real combatant of the hair loss epidemic in millions of treatments across the globe.
What started with painfully manual laser combs has now morphed into fantastically passive and portable treatments in baseball cap form like the Kiierr272Premier Laser Cap. Kiierr is Pioneering the laser hair growth space along with companies such as Capillus and Irestore to soon make hair loss a thing of the past!
1. Reduces the Side Effects Of Cancer Treatments
Anyone who has ever had chemotherapy or radiation to treat cancer knows how painful the side effects can be. Anyone who knows a person who has undergone cancer treatment would also know how painful it is. Doctors at the University of Alabama at Birmingham Hospital teamed up with NASA to do some research regarding the use of red light therapy and cancer treatments. The two developed a device called a High Emissivity Aluminiferous Luminescent Substrate (HEALS) to stimulate the cells in the body and aid in healing after cancer therapy. One of the most painful and most common side effects of cancer treatment is oral mucositis. Patients in the study had a nurse holding the device close to their face for 88 seconds a day for 14 days. After the study was concluded, 96 percent of the patients reported a huge improvement in their pain. This is a very cost effective and therapy that is very easy to administer.
2. Tissue Repair and Wound Healing
Red light therapy has been extremely effective in healing wounds quickly and repairing tissue. Many dermatology offices use pulsed light to repair tissue. The only problem with this is that the laser that is used causes intentional damage to either the dermis or the epidermis of the skin so that it can trigger the inflammation and then start to heal. Red light therapy doesn't need to cause any damage to be effective. The red light will stimulate the regenerative process in the skin directly. Since no other layers of the skin will be damaged during the treatment, red light therapy is the better option.
3. Anti-Aging Effects For the Skin and Treats Hair Loss
If you are hoping to reduce the appearance of fine lines and wrinkles and you don't want to have Botox or any other invasive treatment, red light therapy could be the answer. A study was performed in 2014, and the findings were extremely favorable. First, it was discovered that red light therapy is a very safe anti-aging treatment. The people who took part in the study reported a better complexion, less roughness, an improved skin tone, and less fine lines and wrinkles. When the patients had their skin measured using ultrasonographic testing, most of them had increased collagen density after the red light therapy. Patients who suffered from rosacea also found relief.
Another benefit of red light therapy is that it can stimulate hair follicle growth, reversing hair loss. The treatment work in the same way for hair loss as it does for tissue repair.
4. Improved Musculoskeletal and Joint Health
Because red light therapy is capable of stimulating the production of collagen and it can rebuild cartilage, it has become a popular treatment for arthritis symptoms. People who have other types of tissue damage or who are experiencing degeneration due to age can also benefit from red light therapy. A study was performed on patients who suffer from neck pain. The patients who suffered from acute neck pain had relief immediately after the treatment. The patients with chronic neck pain reported pain relief after 22 weeks of treatments. Patients with other musculoskeletal disorders reported serious improvement after being treated with red light therapy. For example, people who suffer from conditions such as tendinitis, fibromyalgia, osteoarthritis, post-traumatic arthritis, and bone fractures often suffer from reduced range of motion. Red light therapy can correct this. It can also treat plenty of other symptoms of these conditions without the need of medications.
6.(bonus) Reduced Fatigue and Depression
People who suffer from depression or chronic fatigue have found great relief after red light therapy. People who practice traditional Chinese medicine have been using red light therapy for years. These people look at our bodies as being large energy systems. The light from the therapy will add to the energy, making the body stronger. More recently, doctors and psychologists who practice Western medicine have been using red light therapy to treat their patients. Studies have shown that red light therapy can improve a person's mood, it can increase their self-confidence, and it can make them more positive, joyful, and passionate. There have even been patients in the study who reported laughing more, having better conversational skills, and even having more social awareness. It is important to understand that the effectiveness of the treatment will vary from patient to patient. Many people who do use red light therapy to treat fatigue and depression use this treatment along with their prescribed medication.
Summary
There are several health benefits of red light therapy. Over the last few years, more and more doctors have been incorporating it into their patient's regular treatment plans. This therapy is excellent because the side effects are minimal. It is also inexpensive and easy to administer. Most people don't suffer from any side effects at all. Most medications have a long list of side effects, some of them are very dangerous. This is not an issue with red light therapy.
Read Next: See our Best Laser Cap Reviews for hair regrowth reviews for 2019.