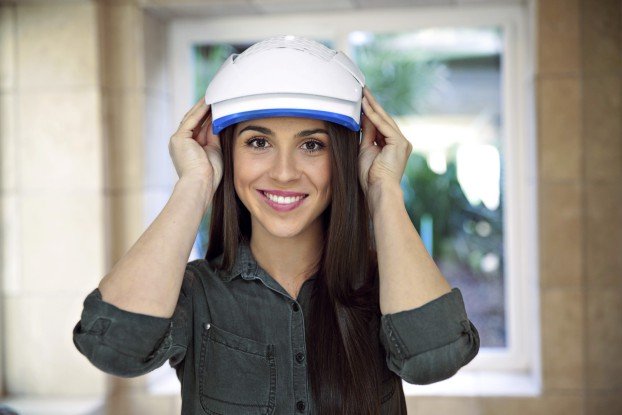 Best Laser Hair Growth Device Reviews: Ultimate Guides
The wild, wooly world of hair restoration.
Let's face it, losing hair sucks. When you look in the mirror and see nothing but scalp where you used to have dense, beautiful hair, it's an understandably bad feeling.
Nobody wants to lose their hair, but the unfortunate truth is that over 85% of men will suffer from hair loss by age 50, as will 25% of women, according to statistics provided by the AHA.
There are, of course, many different products, techniques, and regrowth treatments available in our modern world to prevent and slow hair loss, and help you regrow hair. There are even surgical techniques used to implant hair, such as hair plugs and implants.
But with so many different products on the market, figuring out what really works and what doesn't can be very intimidating. Who's telling the truth? Who's just trying to sell you something? It's often very difficult to tell.
That's why we're here. In this article, we're going to go over one of the newer techniques on the market today. It has been clinically proven to restore hair without the invasiveness of surgery.
And at the end of this FAQ, we will go over 5 different products that you can check out if you're interested in partaking in clinical-strength hair restoration sessions in the comfort of your own home.
| Picture | Device Name | Shipping weight | Best Price |
| --- | --- | --- | --- |
| | The iRestore Laser Hair Growth System | 2.6 pounds | |
| | iGrow Hands-Free Laser LED Light Therapy Hair Regrowth Rejuvenation System | 3.7 pounds | |
| | HairMax LaserBand 82 | 2.5 pounds | |
| | Theradome Hair Growth Helmet | 4 pounds | |
| | CapillusPro | 5 pounds | |
But let's start with the basics.
LLLT (Low Laser Light Therapy), hair loss, and you!
Low Laser Light Therapy, or LLLT, is a method of hair regrowth that uses lasers and LED lights targeted at specific wavelengths of red light (usually around 650nM) to target skin cells and hair follicles, and energize them, boosting their metabolic rate and helping you regrow hair.  You should typically undertake these treatments at a frequency of 2-3 sessions per week.
Boosting the energy available to these cells encourages growth, and  also helps stimulate blood flow to the affected areas of the scalp, boosting hair production and health, according to Dr. Alan J. Bauman of Bauman Medical, a hair restoration clinician and expert.
It's non-invasive, and uses "cold" lasers, meaning you will not feel any kind of burning or discomfort typically associated with lasers; and there is no UV radiation involved in the process.
People have used this type of hair regrowth product in clinical settings for years; and used to require booking expensive sessions at a hair restoration clinic. But given the advances in technology over the last couple years, these LLLT therapy devices, once only available to doctors and clinicians, are now available for you to use in the comfort of your own home. All of the effectiveness, none of the hassle.
Okay, but Does it work? The evidence for LLLT.
Yes. LLLT works. According to a comprehensive US Study, LLLT is safe and effective in hair regrowth clinical trials,  and can treat both Male Pattern Hair Loss (MPHL) and Female Pattern Hair Loss (FPHL) , the two most common causes of hair loss and thinning for men and women, respectively. The safety and success rate of LLLT is unparalleled.
Now, results to vary from person to person, and they found that LLLT is more effective in people with moderate hair loss; meaning it will lose effectiveness if your hair loss is very advance. Like with most treatments, it's better to catch it early, and treat accordingly.
Can LLLT be combined with other topical and chemical treatments?
Yes! Because LLLT only focuses on stimulating your scalp and is non-invasive, there are no negative side effects when combined with other topical hair restoration programs. It is totally safe when combined with other treatments, such as Minoxidil-based products Rogaine or Finasteride-based products such as Propecia, according to two studies by Advanced Hair Clinics.
In fact, both of these studies have found that when people use LLLT with other treatment options, the efficacy of both treatments increases! They build off of each other, strengthening one another and increasing the amount of hair that you can regrow, leaving you with thicker, fuller hair, faster!
What is the safety record of LLLT? Are there dangers?
LLLT is very safe. There are only two important safety guidelines that we recommend you follow.
First, you should avoid using LLLT if you are taking medications (or using topical medications) that increase your skin's sensitivity to light. Despite the "cold laser" energy used in these devices, they can have negative effects when combined with these sorts of medications.
Second, you should never look directly into the lasers used in LLLT. They are delivering large amounts of energy, and your eyes, which are very vulnerable to light energy, will be negatively affect.
That's it! Besides those two principles, an LLLT system is as safe as can be, both for short and long-term use.
Is LLLT worth the cost?
Well, that depends on your level of hair loss, your budget, and your personal inclination to regrow hair. Obviously, these answers will be different for everyone, and that's a big factor when considering hair loss treatment.
Another thing to consider is that, over the long run, these products are a great value. In comparison, visits to professional hair clinics can cost you hundreds of dollars per session.
They are using the exact same clinical-grade technology, and usable at home, where you can relax and feel comfortable. They are durable and reliable, and because you can use for extended periods of time, even years. This means that treatment cost falls the longer you use the product.
If you have the budget for it, are looking for products good for home use, are willing to undertake extended treatment regimens, LLLT is certainly a good option; especially when paired with other topical hair restoration treatments, and compared to the therapy cost of other methods of hair restoration.
What products should I be looking at if I'm interested in LLLT?
There are many products out there, which share the same basic design principles. Readily available online, they are easy to buy and easy to use.
However, some of them have important differences in aspects of their design, such as the wavelength of red light used, portability of their design and efficacy, and recommended treatment time.
Through our extensive research, we have identified the top 5 LLLT devices on the market today, and written up a quick review on each one. These treatment reviews should give you a better idea of what machines, manufacturers, and products are available.
The iRestore Laser Hair Growth System – BEST OVERALL VALUE !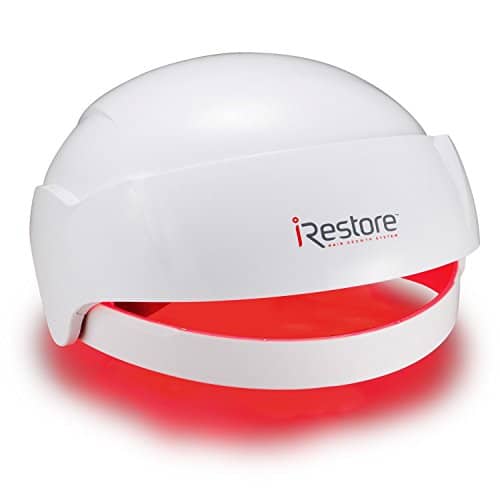 The iRestore Laser Hair Growth System is portable, helmet style LLLT device that uses 51 medical-grade lasers and LEDs at the 650nm wavelength to treat hair loss and help restore thinning hair.
This product is useable by both men and women. It's lightweight at only 2.6lbs. It features an ergonomic design that's attractive and distributes its weight evenly, allowing you to be comfortable while receiving your treatments.
The sturdy helmet design means that you're free to free to do other work or relax while you wear it; and the light weight means you can wear it for extended periods of time with little-to-no discomfort.
You can even purchase a separate mobile battery pack to use the iRestore hair growth system while you're on the go, anywhere!
Lightweight, comfortable, and durable, this device is produced in a manufacturing process that meets the very highest ISO standards, and has been teste to maximum compliance by Intertek Testing Services. FDA certified it as a class 510 medical device, and clinical trials have confirmed its efficacy .
Operation is simple. Place the helmet on your head, activate it, and use it for 25 minute sessions every other day, or 3-4 times/week. Like most LLLT devices, you'll see results within 2-6 months of use.
This device is a great value, and it's got a relatively low therapy cost; and we highly recommend it if you're just getting into the world of LLLT, and don't want to break the bank on an ultra high-cost device.
The iGrow Hands-Free Laser LED Light Therapy Hair Regrowth Rejuvenation System – FOR MUSIC LOVERS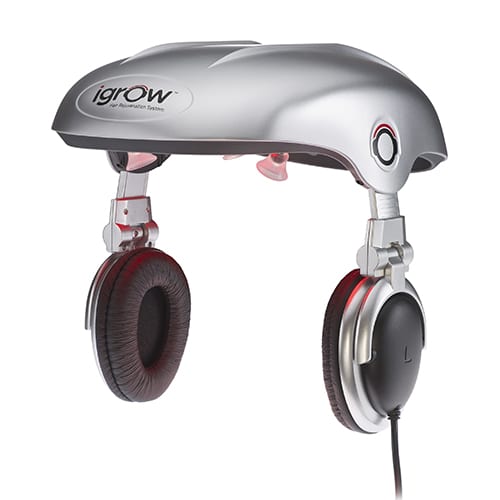 This is another helmet-style, hands-free LLLT hair regrowth device. It shares many similarities to the iRestore Laser Hair Growth System, but differs in some key ways.
First, the iGrow design is very comfortable and convenient. A 4-column adjustable design ensures that it can fit on any sized head, giving you a perfect fit during your treatment sessions. Intelligent weight distribution and built-in headphones also give you a wonderful way to enjoy yourself during your treatment sessions. Just put on the device, turn it in, crank up your tunes, and sit back as the 51 medical-grade LEDs and lasers do their work.
This helmet is a 510 class FDA-certified medical device . And in 2 different clinical trials, 35% in males and 37% in females has proven it to increase hair counts in just 16 weeks of treatment.
Usage is simple as well. Before using the iGrow product (or any LLLT product), they recomend that you wash your head and hair thoroughly to rid yourself of and dirt, hair products, or other contaminants that may cause the light of the LLLT to not fully energize your skin cells and hair follicles.
This is not expressly require, but will increase the efficacy of the treatment quite a bit.
Used correctly and on the recommended regimen of 20 minutes every other day for six months, and combined with other hair growth products, you will see the difference in your hair within 3 months. You can continue the treatment indefinitely, until you've achieved the results you want.
As with all LLLT treatments, this iGrow is totally compatible with other topical treatments such as Rogaine and Propecia. Combining these treatments will result in thicker, fuller hair with fewer treatments.
We recommend this device for anyone who's interested in a helmet-style LLLT device with some bonus features; such as its easily adjustable design and built-in headphones. At a lower cost than some other offerings, it's certainly a bargain.
HairMax LaserBand 82 – The Ultimate Hair Growth Laser Device – ABSOLUTE FASTEST TREATMENT TIME!


The HairMax LaserBand 82 is a top-of-the-line, high-end laser light therapy device. Designed by the iconic Italian design firm Pininfarina, the attention to detail is clear as soon as you hold this device in your hands,  and feel its quality and weight.
The HairMax LaserBand is also very technologically advance.  A complement of 82 medical-grade lasers. You can find no LEDs on this device. While LEDs are effective in LLLT, high-grade devices often feature only lasers. It means that you're only getting the very best energy delivery method to your hair follicles, increasing growth and decreasing the time needed for treatment.
In addition to these medical-grade lasers, the HairMax LaserBand features a unique, toothed design. It parts your existing hair in order to completely expose your scalp. This ensures that bouncing off of your hair and scattering away wastes none of the light energy firing into your hair follicles.
Cleared as an FDA medical device, the HairMax LaserBand 82 has had more studies conducted on its efficacy than another other laser hair growth product on the market. 7 clinical studies conducted at top US medical research centers have been conducted on HairMax laser devices, and the results have been published in 6 peer reviewed medical journals, more than any other laser hair growth company in the world.
Operation of the device is simple, though not as simple as a helmet-style, full-coverage hair regrowth treatment device such as the iGrow.
Simply place the LaserBand 82 on your head, starting at the hairline. Make sure that both rows of the parting teeth are making full contact with your scalp. Then activate the device, and leave it in place for as little as 90 seconds, all the way up to 3 minutes. After the first treatment, gently move the device to the center of your head, and repeat. Finally, move the device to the rear of your head, and repeat treatment one more time.
They recommend to maintain a schedule of 3x treatments/week; and the recommended treatment time is at least 8 weeks, by which time some users see easily visible, thicker, and fuller hair. You can achieve the results in as little as 8 weeks.
This, of course, depends on the user and the severity of their hair loss, but almost all users report visible results within 12-16 weeks of beginning treatments. 90% of HairMax users experienced new hair growth, averaging 129 additional hairs/square inch. You may safely continue using the device indefinitely to maintain your new, healthy hair.
Given how quickly this device works, we certainly recommend it to you if cost isn't an issue; and you're short on time for in-home LLLT hair regrowth treatments. It's not cheap, but it's certainly worth the price.
Theradome Hair Growth Helmet  –TOTAL QUALITY AND EFFICIENCY AWARD WINNER!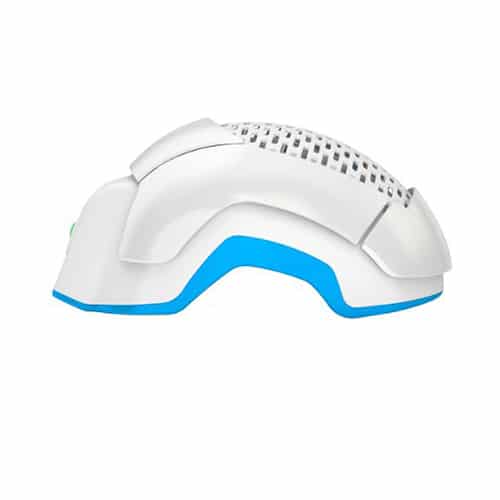 The Theradome Hair Growth Helmet is another total scalp-coverage product. Its design is with proprietary clinical strength Cold Laser Phototherapy ; it uses 80 proprietary lasers that blast your scalp with 678nm laser light; reaching the base of your hair follicles during a short 20-minute treatment window.
The power and efficacy of the Theradome Hair Growth Helmet are unparalleled at this price range; it requires only two 20-minute treatments per week to reach maximum efficacy; unlike other products in its class which require 3-4 treatments per week.
You can see typical results within 2-4 months of beginning treatments, as long as following the treatment recommendations. Using the Theradome Hair Growth Helmet on a schedule of 3-4 times a week can provide quicker results, if desired.
4 out of 5 hair rejuvenation experts from such establishments as Bosley and HairClub recommend this product. It delivers clinical-strength results without clinical-strength cost. FDA has proven effective on 97% of clients, and has cleared as a medical device.
In addition, this is a very power-efficient and portable device. Its battery can deliver up to 9 20-minute hair restoration sessions without charging; and the quick-charge technology means a full recharge can achieve in only 90 minutes.
This device is not cheap, but it is effective and economical when it comes to time needed for treatments, and has been clinically proven to safely and quickly help restore hair growth.
We recommend this device for anyone looking for a top-grade, helmet-style hair regrowth device. It could be thought of as the full-scalp coverage counterpart to the HairMax LaserBand 82.
CapillusPro Mobile Laser Therapy Cap for Hair Regrowth – NEW 6 Minute Flexible-Fitting Model


Losing hair really sucks. All the time, effort and energy being put into hair restoration can make you feel like it is for nothing.
We get it. We understand that. Thus, the reason why we are about to spill the secret about the best hair laser growth device in 2017. Yes, there are many hair laser growth products and brands out there. Choosing one can be both pretty intimidating and time-consuming.
You can save yourself some energy because, in this article, we're going to review CapillusPro Laser Therapy Device.
Quick Facts
CapillusPro Laser Therapy Device looks like a regular cap. But the benefits of wearing it is beyond what you could ever imagine. If hair loss is something you have been struggling for a while now, it might be a wise choice to get CapillusPro Laser Cap.
Specifically made by the company Capillus, LLC, this cap is the answer to any hair loss problems. The corporation is based out of Miami, Florida, and have had years of experience in the industry of hair loss and restoration.
Some of the amazing features include having a flexible fitting design which is comfortable, no LEDs and with 272 laser diodes, and as well as auto-programmed treatment sessions. The product is also guaranteed with 3 years of warranty.
Benefits 
The most obvious benefit of thus hair laser growth machine is in hair restoration. Suffering from hair loss which is mainly caused by heredity can be both frustrating and embarrassing. But Capillus, LLC, is committed to assisting those who go through this. Some of the benefits of this hair growth laser cap include:
Easy to use
No reported side-effects
Slow down balding
Treat hair thinning
Reverses the process of hair loss
Revitalizes damaged hair
Nurture the hair to look fuller and healthier
How to Use 
For maximum impact on seeing the best result in hair restoration, all you have to do is wear this hair growth laser device for just 6 minutes. Do this every single day until you start seeing the result. This device is gender-friendly. So, both men and women can benefit from wearing it.
What Are Included in The Box?
Each of the products designed and made by this Miami-based company comes with warranty service and full customer service support. Other than the device itself, you can also expect to find:
Sports Cap with Capillus Logo on it
Rechargeable Lithium-Ion Battery Pack
Lightweight Travel Case
Universal AC Adapter
Accessories Pouch
Adhesive Belt Clip for Battery Pack
Our Final Thought
We love the fact that this hair laser growth machine is so easy to use. It reminds you of wearing a sports cap when you need to wear it. The only difference would be how much benefits it has to offer in hair restoration. Depending on everyone's budget, the price can fall more toward the "expensive" side though. However, for the advantages you will get from using this hair growth laser cap, we declared this is the best hair laser growth device in 2017. Try it for yourself and let us know what do you think!
WRAP UP

We hope this article was informative; and that you can now be armed with some helpful information about LLLT, and hair restoration in general.

It's a complicated subject. But with the knowledge you've gained from this article, we know you're ready to begin your hair regrowth journey; whether it's with one of these LLLT treatments or not.